Survivor Mask Stories
Although most of us have just been introduced to wearing a mask when we are out and about, many victims of domestic violence have been wearing their own masks for years.
These masks hide their personality so they don't upset their abuser.

These masks put on a brave face for their children so they don't feel scared.

These masks show a smile so that their friends, family, and neighbors don't know the pain that they are truly suffering.

These masks help them to survive.
While using WomenSafe's counseling services, survivors often utilize art therapy to help them work through their trauma, identify coping skills, and educate and empower themselves. These masks represent how they are feeling at the time of the session, allowing survivors to express their true selves.
---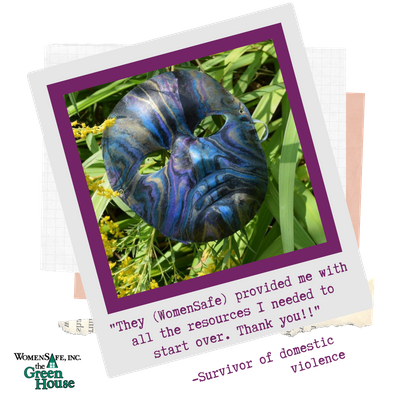 Meet Annette
Annette came to WomenSafe with her 4 year old son, infant daughter and mother who could no longer live on her own.  Annette's marriage always felt "rocky", but as a new mom and wife, she felt pressured to push through and endure unhappiness.  It was not until she had started talking to her co-workers that she even realized that his controlling and possessive behavior was not normal. 
After the physical violence set in, she knew she had to get out. One day she loaded her two children, her mom, and a bag of belongings on a bus and called WomenSafe's hotline.  As soon as she arrived, she wanted to talk with an advocate about what she could do to better their circumstances. Her motivation and tenacity caused her to enroll in EVERY program including Counseling, Art Therapy, Court Advocacy, Empowered Parent Program, Housing, Employment Specialist Services, and Aftercare.
Working through her trauma in counseling and art therapy, she was able to get her bearings on WHERE she wanted to be.  She knew this road to independence would be long, but she was confident there was a better life out there for her family.  Working with the housing and employment advocates, Annette was able to secure employment and housing in an area that she could walk to work. It even had a daycare center! 
Annette was overjoyed to shop at the Resale Shoppe for her new home. With the help of the Donations Coordinator, she was able to move into her new home and start her new life, free from violence. "They (WomenSafe) provided me with all the resources I needed to start over. Thank you!!"
---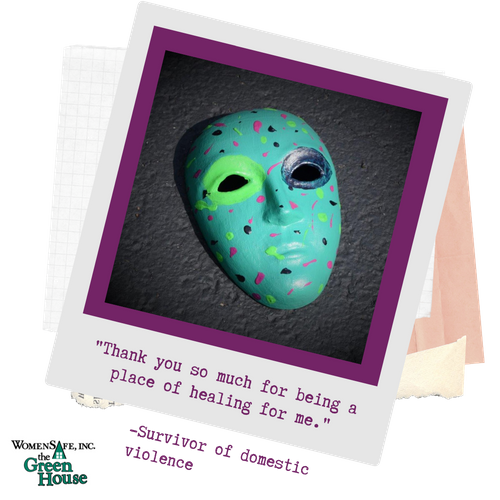 Meet Carrie
Carrie showed up at WomenSafe's doors with her two children, not knowing what the next step was. She had been physically and emotionally abused for almost ten years, and she was scared that she couldn't make it on her own.
After working with WomenSafe's advocates to find a minimum wage job and low-incoming housing, she moved into her new home after a few months, but continued meeting with her counselor and Aftercare Coordinator, Bonnie.
Although now self-sufficient, Carrie was still struggling to make ends meet. Bonnie, was able to help provide some clothes, food, and basic essentials, but barely getting by was no longer good enough.
One day, Bonnie asked, "Who do you want to be, and what would that look like?"
Taking a moment to reflect on this question, she replied, "I always wanted to work in a Pharmacy. Going with my Grandma I was younger, I looked at those workers in their scrubs and jackets and thought that would be a great job to have."  Laughing she added "Not just to dress cute, but waking up knowing I WANT to go in and knowing I'm helping people get the medications they need to get better." 
Carrie and Bonnie began researching how to obtain a Pharmacy Technician Certification. Bonnie studied and took practice tests with Carrie until she passed.  WomenSafe even paid for her BCI test and provided her with scrubs and shoes for her first day. 
Bonnie was informed that Carrie was owed several years in back taxes, after many years of being not allowed to file for fear of being hurt. Bonnie connected her with NMS Accounting to assist with getting her taxes sorted out. She was able to recoup $8,000 and bought a vehicle in full!
Carrie is currently employed at a pharmacy. Her children are both in school, she lives in a comfortable neighborhood with sidewalks and parks, and she is able to drive wherever she wants to go.  She is a PTA mom, loves her new life, and continues to stay in touch with WomenSafe's advocates. "WomenSafe has ultimately changed mine and my children's life."
---