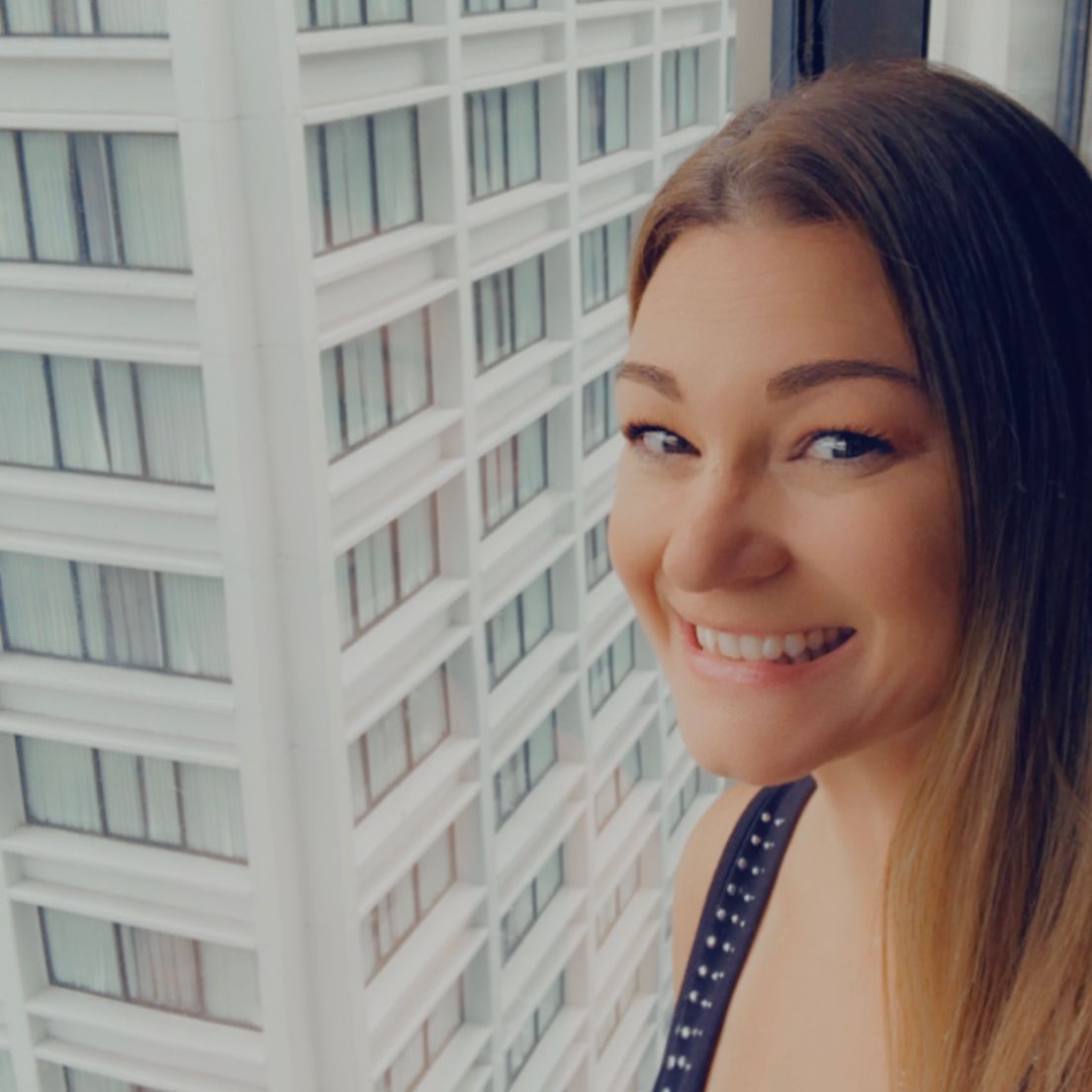 Who: Bonnie G.
Job Title: Events Manager/Volunteer Coordinator
Bonnie has worn many hats in her five years at WomenSafe. She started as an intern, has worked as a donations coordinator, dabbled in outreach by educating middle school classes on healthy relationships, has helped many clients in the aftercare program, and is now the Events Manager and also the Volunteer Coordinator.
Phew! 
She has truly had a hand in just about every job, always finding ways to improve the role she's working in. And it's clear that she's passionate about what she does. Bonnie said, "My favorite thing about working at WomenSafe is seeing the stages of change everyone is in upon arrival. Everyone is different but the end goal is to be safe, self-sufficient and independent. The leadership here strives to make this possible for everyone, and I love that."
"Some people have a job, some have a career but for me, this is my passion."
Bonnie is a friend to everyone who meets her, which makes her the perfect fit for her new role as Volunteer Coordinator. She likes taking care of others and will always ask if there's anything you need her to help you with. 
She's also incredibly creative. She puts together the awesome raffle baskets you see at our events, as well as decorating the venues to match the occasion. There's not a party theme that Bonnie can't handle.
Bonnie is a devoted mom to her daughter Haylee, who is currently serving our country as a member of the Air Force. Bonnie describes herself as a homebody, where you can find her tending to her many, many chickens! 
What Bonnie's Coworkers Have to Say:
"When I think about Bonnie, I immediately think of her big heart! Whether working with clients, a special project, her team and of course her family, Bonnie loves big! She is more than a coworker, she is a friend to many and certainly a friend to me." – Andrea G., CEO 
 "When I first started at WomenSafe, Bonnie was one of the first people to make me feel welcome, always going out of her way to say hi to me. That's just who Bonnie is. She's always warm and open to anyone she meets. I feel so lucky to get to call her my friend, and now officemate!" – Stacy E., Development Associate 
"Bonnie is like a ninja always on the more helping in anyway she can! Always thinking of others whether it be making coffee or feeding people LOL. The agency is lucky to have this ninja around :)" – Holly H., Lead RCS 
"Bonnie is an amazing coworker who always tries to make everyone's day better. She's always willing to help anyone and she always goes above and beyond with whatever she is helping with. I don't come to the office a lot due to working in Lake County and I can call her if I need something and I can always count on her to help me out." – Courtney S., Lake County Aftercare Coordinator

"Bonnie OH Bonnie!  What can I say about Bonnie!  She's the only gal I know that can cover 10 subjects in under 7 minutes AND tie them all together with a beautiful bow!!  LOL  Honestly, Bonnie is one of the most gracious, giving, and thoughtful women I have had the pleasure of working with these past few years.  And she makes the BEST bruschetta!" – Michele F., Resale Shoppe Coordinator

"Within a week of Bonnie working at her internship here at WomenSafe, I knew she was a special person. Her eagerness to help anyone and everyone, her positive attitude, and her ability to make friends with every single person she meets are just a few things that make her such a great advocate, co-worker, and friend. You can always count on Bonnie to really listen to you, make you laugh, and then leave you with a smile. Her work with survivors is inspiring, and she has changed the lives of so many of our clients. Bonnie goes above and beyond in any task she sets her mind to, and I am so grateful to have her on our team!" – Megan F., Development Director
Get to Know Bonnie in Her Own Words:
Q: How long have you worked for WomenSafe?
A: 5 years in December
Q: What are three words your coworkers would use to describe you?
A: I would hope they'd say upbeat, funny and down to earth... what I feel like they'd say is Dependable 
Q: What do you like to do in your free time?
A: I love to be at home, definitely a homebody so many projects there!
Q: If you could learn to do anything, what would it be?
A: Are super powers off limits? Because I would love to learn telepathy, it would make for an interesting conversation.
Q: If you could meet anyone, living or dead, who would it be?
A: I would love to meet Dolly Parton. I feel like she is wise in her years.
Q: If you won the lottery, what is the first thing you would purchase?
A: A transitional living center, because we need one...also a box truck. #non-profitproblems
Q: If you could visit anywhere in the world you've never been, where would you go?
A: Beqa Island, Fiji-Reef sharks, silvertips, nurse sharks, bull sharks, lemon sharks, tiger sharks...but if Jurassic Park were real then hands down "life will find a way"
Q: What is your favorite holiday tradition?
A: Decorating for fall, fall events, apple picking, tractor rides,l oh and hanging Christmas lights, so what if they aren't "twinkling."
Q: What's a fun fact that not many people know about you?
A: I can recite all the states in alphabetical order, as well as the Presidents and Scriptures of the Bible... funny though because i can't even remember what I did yesterday.
Q: What is at the top of your bucket list?
A: To be a published author of a series of children's books. 
Q: What's a work-related accomplishment you're really proud of?
A: I am so proud to have worked in two positions that at the time were only Part time and was able to grow them both into full time plus another part time position and honored to work under the leadership of such strong confident ladies.
Q: Who or what inspires you?
A: My little Haylee Rose, not so little though, still on deployment in the Middle East (Airforce). We've been through so much together and she's onto her own adventures now-truly my hero. I'm inspired by her strength, commitment and dedication to being someone and doing something bigger than herself. Love you little bug!