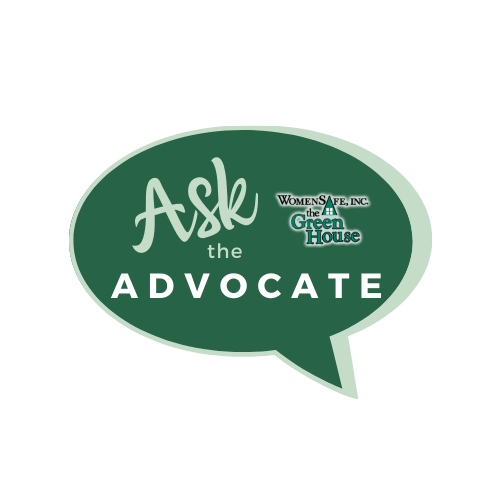 Read this month's round-up of Ask the Advocate Q&As. 
Remember to submit your question for our advocate to have it answered in an upcoming post.
---
7/7/2020
Dear Advocate,
My son came home from school and said "Mom, it's not just boys who aren't allowed to hit girls, girls can't hit us either".  He had a bracelet and really comprehended what domestic violence was, things I did not even know.  He said WomenSafe came to his school, do you provide education?  If so, how will this continue amidst the COVID-19 pandemic?
    - Thankful Mama in Mentor
Dear Thankful,
Our Outreach Program has grown on so many levels and in so many directions.  
The most effective way to create awareness is through prevention education. WomenSafe uses a curriculum easy for children to comprehend as it explains types of abuse and ways to stay safe. 
One year we had 100% participation with EVERY school in Lake and Geauga County during Domestic Violence Awareness month.  This is where high school football players and cheerleaders demonstrate and take a stand against domestic violence. Game announcers provide statistics and resources. (Who says you can't learn something new at a middle/high school football game!)
Stacy E. and Stephanie M. are WomenSafe's Outreach Coordinators and continually research and develop new community education through scheduling of presentations.  They present to the schools in Geauga and Lake counties but also go to corporations and salons who are mandated to receive domestic violence awareness training.  
As far as when this will resume due to COVID-19, it will depend on what the pandemic looks like in the fall and if schools will allow presenters into the classroom. Our coordinators have been working on alternate education options (such as a recorded video presentation) to ensure that students are still getting this valuable and important information. 
Thank you for your question,
Your Advocate
---
7/14/2020
Dear Advocate,
My question is regarding Court.  How can I get someone to represent me in a Domestic Violence case?
    - Nervous from Nevada
Dear Nervous,
The Court process can be very daunting and confusing, which is why we have two Court Advocates Paige S. and Holly H. These ladies will assist in educating you on the resources available to assist you in your unique situation.  
Safety planning is always priority number one. You would be assisted with creating your own safety plan. They ensure that all clients are informed of the Victims Compensation Program, VINE (Victim Information Notification Everyday) and Marsy's Law in addition to providing referrals to Legal Aid or other attorneys.  
By informing a client of these resources, they will be better equipped to understand the legal process and proceedings.  
For more information, you can call our 24 hour COPEline at 888.285.5665 or you can contact our Court Advocates by calling 440.285.5665 x 226 (Paige) or x 231 (Holly).
Best Wishes,
Your Advocate
---
7/28/2020
Dear Advocate,
Once a person is in shelter, how do they find housing and relocate when they're ready to leave?
    - Trying in Trumbull County
Dear Trying,
This is a great question. We usually have an average of three months for a typical stay, so where to next?
WomenSafe's Housing Coordinator assists clients in looking for a home. The Coordinator then checks to see if the client is eligible for different types of funds through agencies such as HCRP, ODVN, LMHA, GMHA, Lifeline, Extended Housing etc. Through some of these programs, clients may receive either first month's rent, security deposit or both depending on what guidelines they meet.  
The outcome of this program is designed to assist clients who have made housing a goal while staying in shelter.  Tenant and property owner rights are reviewed with the client, and a visit to the residence with the Housing Advocate is fulfilled.  
There is also a program called the HOME GRANT. This is a type of transitional living partnered with Extended Housing while the client is in WomenSafe's Aftercare program to assist with up to two years using a percentage of the client's income.  These were all created to increase the individual's ability to live independently and be self-sufficient.  
For more info, you can call COPEline at 888.285.5665 or contact our current Housing Coordinator, Savannah, at 440.286.7154 x 234.
Best Wishes,
Your Advocate
---