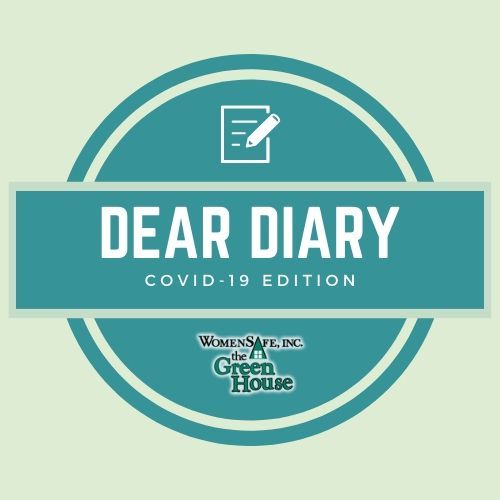 7/20/2020
Dear Diary…
Good morning! I hope everyone had a wonderful weekend. I am grateful to continue moving towards our new normal as we enter week 19 of the Coronavirus pandemic. 
We are seeing more of our clients not only in our shelter, but we will be looking forward to seeing many resume onsite appointments. We are establishing solid protocols for returning to the office, as well as gaining insight into comfort levels for not only our clients, but also our staff. We want to make sure that everyone is mindful of continued safety for everyone as we continue to see an ebb and flow of the infection throughout the state.
Telecounseling will certainly continue as a venue of added service options and we will certainly see onsite clinical and case management services begin to return. Our goal is to continue moving forward and praying we don't have to take steps backward. 
I am also excited that several clients moved out over the past couple of weeks and are able to start their new lives free from violence. We will continue to advocate and support them through this next chapter. We remain ready and prepared to assist additional survivors as they reach out. Please let anyone you know in need of assistance to call  1-888-285-5665 for 24/7 crisis needs.
The Resale Shoppe has been able to open its doors successfully for the past 5 weeks, and over the past week it resumed taking donations. There was a line of cars waiting to donate on the 14th, and we appreciate the new merchandise being able to eventually be placed on the floor when it is safe to do so. We do have protocols in place for that as well. Unfortunately, this also means that there are caps for donation acceptance all clearly explained on the Resale Shoppe Facebook page and the WomenSafe website. We certainly appreciate our volunteers and shoppers who have been making the return to shop and offer assistance while we return to business. We are still only open Tuesdays, Thursdays and Saturdays. 
This week we also launch our "TEE for DV" Golf Campaign. Beginning today (July 20th) through August 16th, golfers can sign up their team for just $100 (only $25 per person!) then play a round at the golf course of their choosing. Upon registering, each team will receive:
A SWAG bag in the mail

One raffle ticket per player in each of that week's raffle prizes 

An entry into our Grand Prize: a complementary foursome at our outing at Sand Ridge Golf Club next year (To be held on Monday, June 28, 2021) 
Click Here to Support TEE for DV Today!
The Friends of WomenSafe also embarked on their first virtual fundraiser this weekend as well! Purses and Pastries was a great success brought to the Facebook community live. We'll be excited to hear the feedback…as well as their totals! 
As we have officially started Fiscal Year 2021, it is more important than ever to be mindful of our revenue and our expenses. It is going to be a tough year with many unknowns. If you want to help us help others, please consider supporting the virtual golf campaign, purchasing cards from Nancy's Nest, shop our Amazon wish list (Amazon COVID-19 Wish List), and/or mail a check to 12041 Ravenna Road, Chardon, Ohio 44024. Further information on these opportunities are available on our website. We need your support now more than ever!
I resume with my list of some of the things I (and many others) are grateful for:
My coworkers/friends - I appreciate the dedication that the WomenSafe family has to making services work and continue for everyone in need throughout the community. We have had some staffing transitions and through this time, and I have seen our team continue to support one another and truly help one another. WE are WomenSafe and WE are awesome! Our shelter remains staffed 24/7, and services are continuing to be adapted to meet the needs of survivors in our community. We have another virtual staff meeting this week and are working towards ongoing efforts to share communication with each other. I will be working with Director's on a WELCOME BACK socially distant event. I look forward to sharing this with the team.
My family - I can't believe what a weird summer it's been. I guess the kids are ready to go back to school??? I am just not sure that I am ready for the summer to end. We are looking forward to taking a mini-road trip over the next couple of weeks in the hopes to catch up. We are still mindful that vacations as we knew them aren't going to happen for a while. Ugh… It's my Dad's birthday this week and Mom's is the following, so we are looking forward to the park meet-and-greet to have some cupcakes and say hello. I am grateful for the beautiful weather and our awesome park systems. It's like we have a vacation spot right here in our own backyard. 
Those random acts of kindness - I did mention the generous donors who have waiting to give items to the Resale Shoppe, but I also wanted to mention the shoppers who continue to send items from the Amazon wish list. We have had several clients move over the past week and the new pillows and bedding were certainly handy to have available. We also had an amazing small and mighty group from Christian Life Church visit this weekend to provide painting, yard work, and beautify our space for clients to enjoy. The children also painted rocks to display throughout the property with their words of wisdom J We are blessed that they have shared their time, talents, effort and love with WomenSafe. We couldn't do it without any of you.
I know it was a hot weekend…and for many also hectic…
In a world and a time where there is a bit more stress and unknown, 
be kind to yourself and let that kindness be shared with the world.
Take good care…and have a peaceful week,
Andrea
Andrea Gutka, CEO/Executive Director
WomenSafe, Inc., the Green House