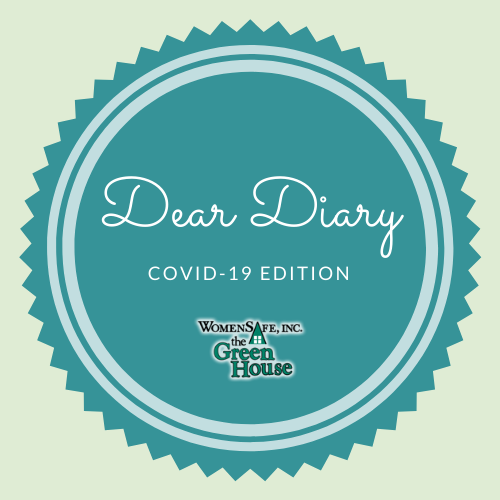 7/6/2020
Dear Diary…
Good morning! I hope everyone had a safe, happy and healthy 4th of July extended weekend. I am excited to begin the movement towards our new normal as we enter week 17 of the Coronavirus pandemic. 
We are seeing more of our clients not only in our shelter, but we will be looking forward to see many resume onsite appointments. We will continue to offer telecounseling and outreach services to meet the need, but as mentioned in prior letters, this wasn't a viable option for some of our clients.
I am looking forward to gradually increasing our onsite clinical and case management services for clients who are residing in the community and, selfishly, I am excited to see more staff around. I have missed them. We are continuing to be cautious and mindful of everyone's continued safety. Our goal is to continue moving forward and praying we don't have to take steps backward.
We thankfully have been able to contract with an infection control company to get additional onsite disinfection completed, and we will re-evaluate this need moving forward. We remain ready and prepared to assist additional survivors as they reach out. Please let anyone you know in need of assistance to call 1-888-285-5665 for 24/7 crisis needs.
The Resale Shoppe has been able to open its doors successfully for the past three weeks, and it is clear that it was missed by the community. Sales have been great! We look forward to being able to resume donation acceptance towards the end of July. Stay tuned to our Facebook pages and/or email blasts for updates.
We certainly appreciate our volunteers and shoppers who have been waiting for the doors to open and diving in to make adjustments and offer insight as to the processes that are working and constantly re-evaluate. 
As we have officially started Fiscal Year 2021, it is more important than ever to be mindful of our revenue and our expenses. I anticipate this first quarter will be the toughest to turn around yet. There is still so much unknown, and we also are not sure what the future holds with school outreach and our additional wrap around supports.
If you want to help us help others, please consider supporting the virtual golf campaign, purchasing cards from Nancy's Nest shop our Amazon wish list (Amazon COVID-19 Wish List), and/or mail a check to 12041 Ravenna Road, Chardon, Ohio 44024. Further information on these opportunities are available on the WomenSafe website. We need your support now more than ever!
I resume with my list of some of the things I (and many others) are grateful for:
My coworkers/friends - I truly work with a creative and amazing team. Everyone came together over the past week to declutter and prepare for the infection control company to arrive. This also included several staff working with clients to get outside and enjoy the day while our facility needed to remain vacant for a bit. In addition, many staff have taken it upon themselves to meet the needs of our clients in a creative way. Some of this includes meeting outside or dropping off items to clients. It's more important now than ever to make sure we continue to check in on our clients, meet their needs and reduce the chance that they may return to an unsafe environment. Our shelter remains staffed 24/7, we have had some staffing changes, but truly appreciate our entire staff pitching in to cover agency needs and collectively problem solving! We continue to adapt as a team and I know that we are strong. We have another virtual staff meeting this week and certainly look forward to when we can be in the same room together and share laughter. I will be working with the Directors on a WELCOME BACK socially distant event. I look forward to sharing this with the team.
My family - I haven't hugged or kissed my Mom or Dad for over 3 months. My kids wanted to go and get tested together so that we can hopefully get an "all clear" and make our first stop to Grandma and Grandpa's House. I think that may take a bit, but I can't wait until we no longer have to just wave and say goodbye. I am just grateful that everyone is remaining well. I am also loving this weather so that we can share some time together outside.
Those random acts of kindness - People who are calling regarding donations and when they can bring them. I received a call last week from a woman who said, "I've been stepping over several boxes of items for WomenSafe this entire quarantine." When I apologized and offered alternatives, she said, "That's ok, your cause is worth waiting for." Our community never ceases to amaze me. We are lucky. 
I also am appreciating and grateful for social media - Yes, there is a lot out there I may choose to scroll by or dive further into, but isn't it wonderful and powerful to have that choice? Visit the

WomenSafe

and

Resale Shoppe

 Facebook pages to check out the videos, posts and regular updates to keep abreast of all things WomenSafe.  
As I am typing this over the holiday weekend, I am watching my dogs be at peace with the continued company. The quote below is actually meant to be fun in spirit, but resonates with taking a step back and being in this moment.
~Lessons From A Dog~
Unleash Your Talents, Chase Your Dreams, Have a Happy Attitude, Wag More and Bark Less, 
Love with All Your Heart, Learn New Tricks No Matter What Your Age, 
Show Lots of Affection, and Shake It Off
Take good care…and have a peaceful week,
Andrea
Andrea Gutka, CEO/Executive Director
WomenSafe, Inc., the Green House