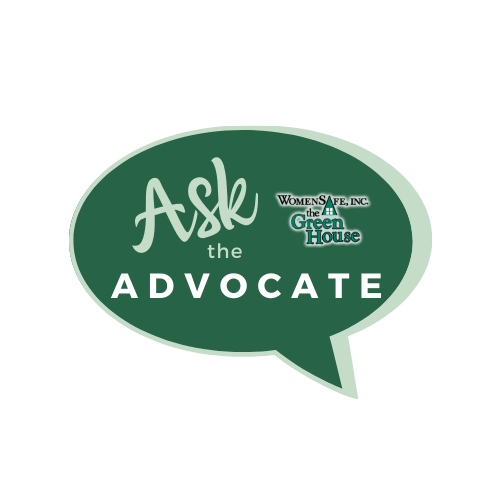 Read this month's round-up of Ask the Advocate Q&As. 
Remember to submit your question for our advocate to have it answered in July.
---
6/9/2020
Dear Advocate,
I have a safe place to stay, but I see that you guys offer a lot of other services. Are those only open to people staying in the shelter?
- Hopeful in Hiram
Dear Hopeful,
We truly thank you for reaching out; sometimes the first step is the hardest. We commend you for leaving your abusive situation, and are so grateful you have a safe place to stay. 
You are correct, WomenSafe does offer a wide array of services to all survivors of domestic violence.
Our services include:
• Art Therapy
• Individual adult & child counseling
• Peer Support Groups (currently being held virtually. Contact Jenna at aftercare@womensafe.org for more info!)
• Housing advocacy
• Court advocacy
• Empowered Parent Program
• Employment Specialist
• Donations and relocation
• Aftercare
• Referrals
We provide support to survivors through our many programs, and are constantly searching for new and innovative resources to add to our list.
Here is how to enroll in a WomenSafe program or speak to an advocate directly:
Call Copeline to start the process at 1-888--285-5665

You will be put in direct contact with an advocate to explain and answer questions about our programs You won't need to go in depth about your situation, but a brief overview to determine that you are appropriate for our programs is beneficial to get the process started. This is a friendly conversation, and shouldn't scare you! Our advocates are here to help, and want to make you feel as comfortable as possible.

A referral to the appropriate advocate will be made, depending on what services you opt into, and they will follow up with you to get you started with your chosen program.
Most importantly, all of our services are completely free of charge. This is not going to show up on your insurance, and WomenSafe advocates are bound by the same HIPAA laws that a doctor's office is.
We hope this helps ease some anxiousness. Thank you once again for asking this great question, and we hope you and your loved ones stay healthy and safe.
Best Wishes, 
Your Advocate
---
6/16/2020
Dear Advocate,
I heard about the Safe At Home Program, what is this and would I be eligible because I live in Canton?
- Curious in Canton
Dear Curious,
The Safe at Home Program was designed by the Ohio Attorney General's Office in 2016 as an added layer of confidentiality to those who have been a victim of domestic violence, sexual assault, human trafficking, stalking, rape and sexual battery. 
When escaping an abusive situation, oftentimes your location needs to be kept confidential. That can be difficult when trying to get court paperwork, register to vote, or signing up for benefits. The Safe at Home Program will allow you to receive your mail confidentially after being rerouted through a pre-determined P.O. Box.
Once enrolled in the program, your mail will be re-routed to Columbus, as your "new" address will be a P.O. Box with an assigned number. Your address will NOT be public record after filling out the appropriate application, and in most scenarios, this will suffice as a "real" address. You can even have this printed on your driver's license instead of your actual address.
This is especially helpful if you are going to court and are concerned about the defendant finding out where you live or have moved to. The Safe at Home Program allows your address to be private and confidential, giving you an added layer of security.
Once your application is submitted by a trained advocate, the SAH office will review your application and integrate you into the program. You will be issued a card that you can use at any court, BMV, government agency, non-profit, school, business, or doctors' offices as a valid address. 
You are also eligible to vote and register without a voter registration record appearing in registration lists. Many people don't realize that this is public record, and therefore can be a way for your abuser to find you. 
This program is also shielded from the Ohio Law Enforcement Gateway- an electronic network that law enforcement uses to look up criminal justice data. 
I hope this answered your question.If you would like additional information you, please visit the Ohio Secretary of State's website.
If you would like to speak with an advocate directly about the Safe at Home program, please call COPEline at 1-888-285-5665.
Best wishes,
Your Advocate
---
6/23/2020
Dear Advocate,
I am a member of the LGBTQ community and am being abused by my intimate partner. I have gone to another shelter before and did not feel safe. Where can I go?
- Panicked in Painesville
Dear Panicked,
How awful that must have been to feel endangered in a shelter that is supposed to be a safe space. WomenSafe has heard other stories such as this, about members of the Gay or Trans community leaving for a new life, and finding themselves feeling even more threatened than with their abuser. 
We want you to know that WomenSafe is open to WHOEVER needs our services. We are a Safe Zone certified agency by the Buckeye Region Anti-Violence Organization (@BravoAVP). This means that we are open to talking about and are supportive of LGBTQ individuals and identities. 
Our shelter, hotline, and all other services and resources are all available, no matter your sexual orientation or preference. 
We pride ourselves on keeping our shelter an open, positive, and encouraging environment for all. Please call our COPEline at 1-888-285-5665 to learn more or enroll in services.
Best Wishes,
Your Advocate
---