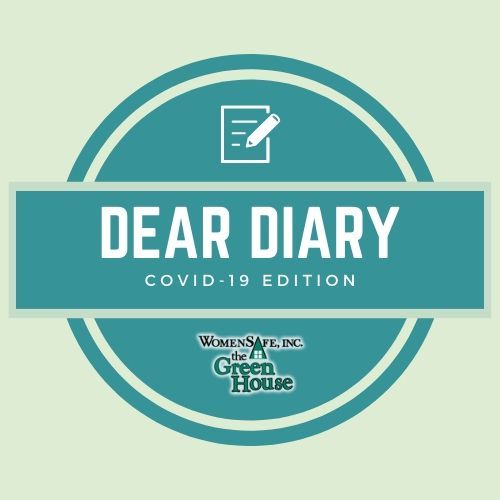 6/22/2020
Dear Diary…
As usual, I like to mix things up a bit. I am going to begin to send by-weekly updates on Mondays. I am excited to begin the movement towards our new normal as we enter week 15 of the Coronavirus pandemic. 
Our client numbers are growing both in and out of shelter. We are working to maintain goal-related appointments and are able to still offer onsite support within the shelter. This will gradually increase with our onsite clinical services for clients who are residing in the community. While Zoom has been a blessing for many of us working at home and providing administrative and clinical services, there is still a group of survivors that are glad that this is "only temporary".
We are working to make sure that while we bring the clinical team onsite that we remain cautious and mindful of everyone's continued safety. We are monitoring our daily census at shelter to still keep it below the total bed occupancy in order to maintain enough space for residents and anticipated influx to shelter as the rest of the world is resuming some normalcy.
We are prepared and ready for additional survivors to reach out during this time as they have likely been unable due to isolation. Please let anyone you know in need of assistance to call is 1-888-285-5665 for 24/7 crisis needs.
Our WomenSafe team has engaged an infection control team of specialists including a medical professional to assist with infection control/disinfection protocols, policy preparation, training and also address needs of staff and clients.
These professionals have also been utilized to support the re-opening of the Resale Shoppe in Chesterland. After the first week and modified hours, the Resale Shoppe has been able to open its doors successfully to the community. The donation doors are still waiting to open as we are being cautious of protocols. We certainly appreciate our volunteers and shoppers who have been waiting for the doors to open. We had sale successes this week! The WomenSafe staff was delighted to have the opportunity to say hello and provide onsite support to the Resale Shoppe team. 
Today would have been our official golf outing day! It was canceled for a virtual type of campaign/event. More information will be made available on our website in July 2020. Stay tuned to womensafe.org or our Facebook page.
The Development and Finance Teams continue to get creative in funding opportunities and utilizing social media resources. This includes providing Nancy's Nest cards online and available for sale. We ship too!
This is the last update before our fiscal year closes. We are hopeful that the agency continues to receive the wonderful support of community donors.
Thank you Amazon shoppers…you are delivering! We are grateful for the donors who have shopped our always updated Amazon wish list (Amazon COVID-19 Wish List), mailed checks to 12041 Ravenna Road, Chardon, Ohio 44024 and also made financial contributions to our website to show they care. We need your support now more than ever!
I resume with my list of some of the things I (and many others) are grateful for:
My coworkers/friends - I truly work with a creative and amazing team. Our shelter remains staffed 24/7, everyone is pitching in to cover agency needs, and we are collectively problem solving! I am grateful for our staff who continue to focus on sanitizing the facility and decluttering. While we have had some staffing changes we continue to adapt as a team and I know that we are strong. We have another virtual staff meeting this week and certainly look forward to when we can be in the same room together and share laughter. I am lucky to have you all in my lives as coworkers and friends.
My family - Father's Day was a bit unusual in that we are still not able to hug or kiss each other hello or goodbye. It is hard to get in a car and just wave and drive away. This said, I am just grateful that everyone is remaining well…and that school is over for the moment J
Our local fire and emergency workers - WomenSafe had a bit of a scare on 6/13. We received emergency calls from our security company and also staff stating that there was a fire onsite. I was able to respond and see our staff and clients following all safety protocols for evacuation. In addition I found 8 fire trucks and tankers from Munson, Newbury and Hambden unloading hoses, fans and shutting off alarms and power to parts of the facility. The end result was much better than it could have been. A belt and pulley on the air conditioning unit seized up and melted due to friction which likely caused a brief fire, and a whole lot of smoke throughout the building. The administrative area was smoke filled and with opening windows and the fireman utilizing high powered fans we were able to still utilize the building when Monday arrived. It was amazing and frightening. We were grateful that the week was cool and that by Wednesday the A/C unit was repaired and functional. This was also a time that I reflected on my house fire in 2010. It is terrifying to think that in a blink everything could be gone and grateful for anything that remains. 
Those random acts of kindness - Watching the Resale Shoppe reopen this past week was truly a highlight. We were anxious about the mask requirement and grateful that a majority of those who entered said "Thank you" and "I feel safe shopping here". That is what this is about. Our shoppers, staff and volunteers at the Resale Shoppe were excited at the opportunity to share smiles with masks and behind plexiglass. The anxiety seemed to go away once the doors opened. The Facebook shout-outs and praise were also very much appreciated.
I am also grateful for the opportunity to learn from each other! Knowledge is power. 
We keep moving forward, opening new doors, and doing new things, 
because we're curious and curiosity keeps leading us down new paths. 
If everyone is moving forward together, then success takes care of itself.
~Walt Disney~
Thank you for keeping WomenSafe in your thoughts and prayers.
Take good care…and have a wonderful week,
Andrea
Andrea Gutka, CEO/Executive Director
WomenSafe, Inc., the Green House