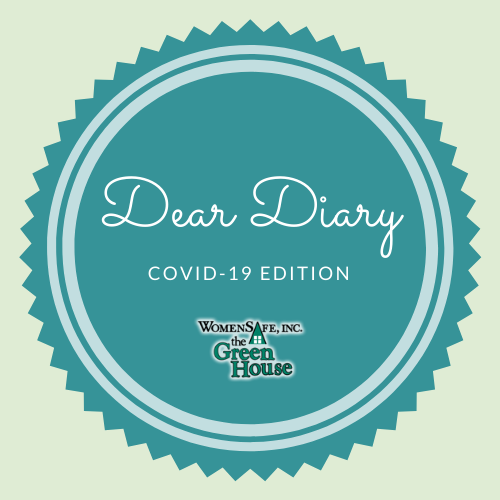 5/29/2020
Dear Diary…
Week 11 complete and we are still healthy and well! Services continue in a variety of formats and WomenSafe is providing ongoing support to survivors of domestic violence both in and out of shelter. 
There are some new faces in shelter and adjustments are going well. I appreciate our staff and the continued focus on assisting clients to meet their goals and also address their basic needs while living at the emergency shelter. We are still keeping total bed occupancy lower in order to maintain social distancing for residents (if at all possible). WomenSafe continues to be here to support survivors. Anyone in need of assistance should call 1-888-285-5665 for 24/7 crisis needs.
We are seeing some additional staff onsite and also continue to provide services in a variety of means onsite, virtually, and the occasional meet and greet. This is done with significant and careful planning. As we enter June, I envision more opportunities to engage with each other, as well as clients. This said, we are wearing masks onsite and will greet you at the door with masks on. Our guests will be asked to do the same. This also goes for the Resale Shoppe. 
It's grant writing season. While we continue to write grants to maintain services we are also concerned about the next year and some fear of the unknown. We are exploring additional fundraising opportunities which include a virtual golf outing and also selling handmade cards made by our awesome volunteers online. If you are looking to stay in touch with friends and family via US mail, WomenSafe is selling "Nancy's Nest Handmade Cards" via the website. I hope that you got to see the fantastic Facebook Live (if you missed it, just go to our page) to see all of the wonderful cards, and also Megan and Bonnie sharing the details!
We are asked daily about the Resale Shoppe reopening. I can assure you it will happen, but there are still some measures that need to be put in place. This is a critical revenue stream for WomenSafe. The WomenSafe Resale Shoppe Team has been onsite to begin cleaning and setting the store to follow best practices regarding donation acceptance, traffic patterns and check out procedures. At this time, we are looking to take it slow with a bit more of a staggered opening and a hold on donations for the immediate time being. We appreciate the support of the community who is also waiting to visit.
This week also brought some staffing changes for our agency. Gina Licursi, Assistant Director of Victim Advocacy is moving on to her next adventure. We appreciate all that she has done to save lives in our community. Stay tuned as we welcome a new staff member to our team.
Thank you Amazon shoppers…you continue to deliver! The donors who have shopped our Amazon wish list (Amazon COVID-19 Wish List), mailed checks to 12041 Ravenna Road, Chardon, Ohio 44024 and also made financial contributions via our website are awesome. Keep shopping! Our most needed items this week include gas cards, face coverings, sandals/summer shoes, sunscreen, women's underwear and food (meat, produce, snacks, juice).
I continue to close with a list of some of the things I (and many others) are grateful for:
My coworkers/friends - I am grateful that we are remaining healthy and well. It has been awesome to see additional faces onsite. I am also thankful that so many staff have reached out to former clients to check in and also offer assistance with basic needs and support. We have seen several grocery cards go out to assist clients who could use the extra help. In addition, resident care staff are continuing to brainstorm with clients about employment and childcare barriers. 
My family - I am thankful that school is over! I think we are really looking forward to a road trip in the near future. 

I am guessing you are all grateful that my update is short this week.
 GOOD THINGS COME TO THOSE WHO WAIT, BETTER THINGS COME TO THOSE WHO DON'T GIVE UP AND THE BEST THINGS COME TO THOSE WHO BELIEVE

Thank you for keeping WomenSafe in your thoughts and prayers…Enjoy the weekend…and be safe…
Andrea
Andrea Gutka, CEO/Executive Director
WomenSafe, Inc., the Green House