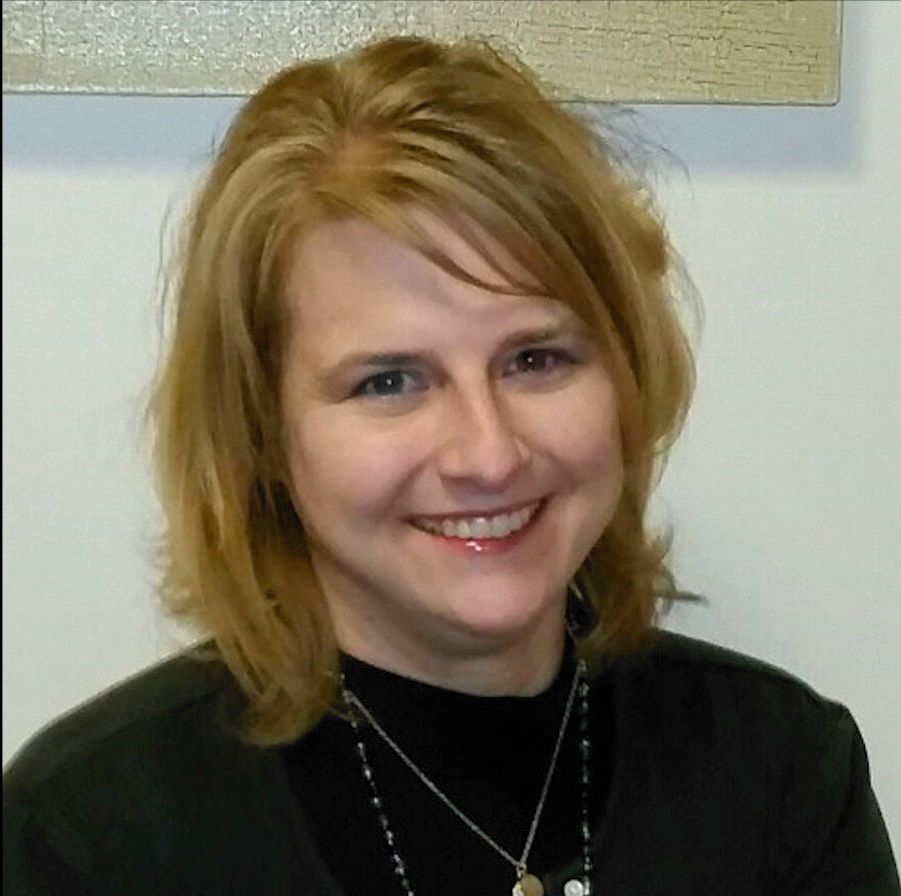 Who: Andrea G.
Job Title: Chief Executive Officer
If you know WomenSafe, then you most likely know CEO Andrea Gutka. Her warm smile and energetic presence has been with the agency for over 15 years. 
Andrea has a background in mental health and addiction services, working for both the Mental Health Association in Geauga and UHHS Laurelwood as a program manager in the Eating Disorder Unit, before making her way through WomenSafe's doors… doors that, at that time, were almost falling apart.
"I was just supposed to build the building…" Andrea likes to say as she reminisces about the pre-Green House days. She was originally hired as a contractor to help manage the capital campaign that had just begun to raise funds for the construction of a new shelter. 
"We needed a safe and inviting environment for our clients," Andrea said. And she was up for the task!
After successfully opening WomenSafe's current shelter, the Green House, Andrea never looked back. She was hired on as a permanent employee assisting with public relations, outreach, volunteers, events, and anything else that got thrown her way. 
She was instrumental in creating and growing the Healthy Relationships program, WomenSafe's education program in Lake and Geauga schools, as well as the success of both the Resale Shoppe and countless fundraisers. Over the years, her job titled changed as she began to dabble in grants, donor relations, and client care, eventually being named CEO in 2015.
"The job can be overwhelming at times," Andrea said. "But when I see those kids walk out to the bus in the morning before school, waiting at the end of WomenSafe's drive with their moms, I know I'm in the right place."
In her free time, Andrea enjoys walking her dogs, kayaking with her family, and shopping at the Resale Shoppe. She loves watching her kids play sports, perform in plays, and simply be kids, just like those calling WomenSafe home. 
What Andrea's Coworkers Have to Say:
"Andrea has helped me grow into the development professional that I am today, and I am truly grateful for her leadership and friendship. She has a way of making everyone laugh and feel like a life-long member of Womensafe's team, even if it's the first time they've met. Her passion and dedication to WomenSafe is inspiring. In her own words, she was just supposed to "build the building" and then leave, but once she stepped foot in the door, she never looked back, and we are truly grateful!"- Megan F., Development Director
"Andrea is one of the most genuine, thoughtful women I know.  Know matter how busy she is (and she is ALWAYS busy), she is always willing to lend an ear, a hand or a shoulder.  Beautiful Mom, daughter, boss and friend inside and out."- Michele F., Donations Coordinator
"Andrea leads by example day in and day out in a truly meaningful manner.  I feel blessed to work with such an extraordinary leader!"- Jen S., Chief Financial Officer
"I think may favorite thing that Andrea says is "What can I do to help!" She continually asks this anytime I tell her I have a new project that I am working or if I am sick or if I am taking a few days off of work.   She selflessly donates her time to ensure the her staffs needs are met." -Sandra E., Controller
Get to Know Andrea in Her Own Words:
Q: How long have you worked for WomenSafe?
A: 15 years
Q: What are three words your coworkers would use to describe you?
A: Dedicated, Friendly, Funny
Q: What do you like to do in your free time?
A: I'm pretty boring actually. I like to go home, hug my kids and husband and take the dogs for a walk.
Q: If you could learn to do anything, what would it be?
A: I would love to actually learn how to cook and not throw things in a pot and hope for the best.
Q: If you could meet anyone, living or dead, who would it be?
A: I would love to meet Jon Bon Jovi. 
Q: If you won the lottery, what is the first thing you would purchase?
A: I would endow WomenSafe so that services would continue to be provided by this agency forever and ever.
Q: If you could visit anywhere in the world you've never been, where would you go?
A: I would love to go to Australia on a glass bottom boat to view the coral reef.
Q: What is your favorite holiday tradition?
A: I love Christmas morning. It was fun as a kid, but is a whole new level as a parent.
Q: What's a fun fact that not many people know about you?
A: I have my motorcycle license. Not that I would be able to actually hop on a motorcycle and ride it now, but I won't let the endorsement leave my license so I can remain "cool"...in theory
Q: What is at the top of your bucket list?
A: I would like to be in a play alongside my daughter. 
Q: What's a work-related accomplishment you're really proud of?
A: I am really proud to have been able to be a part of the team that built the Green House. I learned so much through that time. I learned how to not take no for an answer. It was also inspiring to learn how many people "out there" truly value all that we do "in here". I am really lucky and proud to live and work in this community.
Q: Who or what inspires you?
A: It may sound cliche, but my team inspires me. We all came here to make a difference in the lives of others. What is better than that?