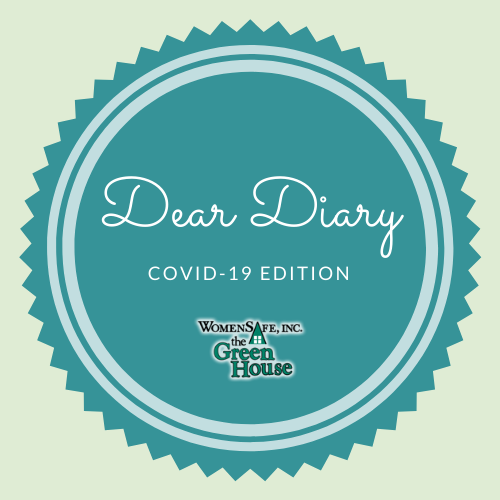 5/22/2020
Dear Diary…
As we enter the close of Week 10, I am truly grateful to be repeating myself that our staff and clients remain healthy and well during this Coronavirus Pandemic. We are continuing to provide support to survivors of domestic violence both in and out of shelter. 
This past week we have seen our shelter census grow a bit. Some of our newer residents are adjusting to shelter life and being wonderfully supported by our staff. We continue assisting clients with goal related needs and still remain a fully operational emergency shelter. We are still keeping total bed occupancy lower in order to maintain social distancing for residents (if at all possible). WomenSafe continues to be here to support survivors. Anyone in need of assistance should call 1-888-285-5665 for 24/7 crisis needs.
I continue to reiterate how lucky WomenSafe has been to have direct care staff that is providing consistent coverage for the shelter. We realize that we need to bring additional staff and clients back into the building with significant and careful planning. Through the remainder of the month and into early June I am confident this will happen. We are wearing masks onsite and will greet you at the door with masks on. Our guests will be asked to do the same. 
Our Development and Finance Teams are in grant writing mode. We are also in the midst of making plans on the reopening of the Resale Shoppe. This is a critical revenue stream for WomenSafe, but we continue our careful planning on the process to reopen those doors.
The WomenSafe Resale Shoppe Team has been onsite to begin cleaning and setting the store to follow best practices regarding donation acceptance, traffic patterns and check out procedures. At this time, we are looking to take it slow with a bit more of a staggered opening and a hold on donations for the immediate time being. We appreciate the continued calls about the Shoppe and reopening plans. We also really appreciate the support of the community who is also waiting to visit.
We had a visit with a vendor who will also provide official opening protocols and also wrap around to support protocols WomenSafe already established both at the shelter and at the Resale Shoppe. We are hopeful this continues to put everyone at ease that we are doing the best we can for not only our clients but our staff. We also had additional air sanitization equipment installed to also help with infection control this week. We've been busy!
Thank you Amazon shoppers…you continue to deliver! The donors who have shopped our Amazon wish list (Amazon COVID-19 Wish List), mailed checks to 12041 Ravenna Road, Chardon, Ohio 44024 and also made financial contributions to our website are awesome. Keep shopping! Our most needed items this week include gas cards, paper products and cleaning supplies, and food (meat, produce, snacks, juice).
I continue to close with a list of some of the things I (and many others) are grateful for:
My coworkers/friends - I am grateful that we are remaining healthy and well. It has been awesome to see additional faces onsite. I am grateful that the team has come together to provide a cookout for the residents this weekend. Certainly an opportunity for our residents to share some fun during this beautiful time in Ohio weather J I am also thankful that so many staff have reached out to former clients to check in and also offer assistance with basic needs and support. We have seen several grocery cards go out to assist clients who could use the extra help. In addition, resident care staff are continuing to brainstorm with clients about employment and childcare barriers. 
My family - I am thankful that schools is done TODAY! The kids are anxiously awaiting a trip out…literally anywhere…I look forward to a road trip in the near future. 
PPE - I am grateful for Medwish who secured KN95 masks for our team in addition to the volunteers in the community who made masks for our WomenSafe team and clients. So much creativity! 
Those random acts of kindness - Most importantly this week, I think I reflected on what it means to be kind to yourself! Don't feel guilty about taking care of YOU….self care is not selfish. I am thankful for my haircut (and hair color….shhh)! It feels great to feel good! This is a time to be kind to you in addition to others. Continue to be kind by wearing a face covering to let others know you care. 
As always…I'm grateful to be an Ohioan! Please remember how smart and concerned we are. We have a responsibility to continue to protect the most vulnerable. We can continue to do this together. 
The movement remains forward with optimism, but I would be remiss to say that there are lot of unknowns as we enter fiscal year 2021. What I can say is that "we'll figure it out".
Enjoy your long holiday weekend…and be safe…
Andrea
Andrea Gutka, CEO/Executive Director
WomenSafe, Inc., the Green House