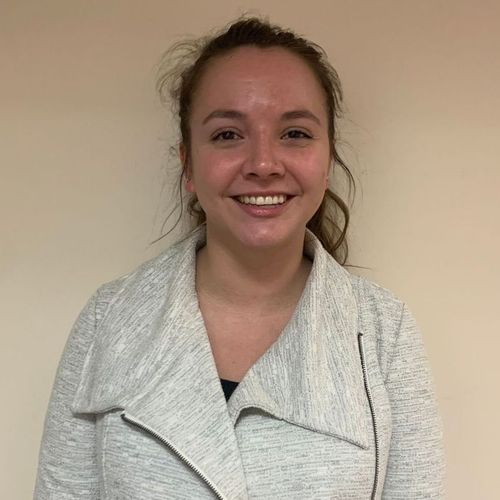 Employee: Paige S.
Job Title: Court Advocate
While studying Women's Gender Studies and Psychology in college, Paige never thought she would end up in a job relating to the legal system. But she -and WomenSafe!- is glad she did. 
Paige started as a part-time resident care specialist working with clients residing in the WomenSafe shelter. She quickly moved up to her current position as court advocate, a program she has committed herself to and has improved upon, since taking over the role two years ago. 
"When you see someone come in on the worst day of their life, stay with us for five months, and then leave with resources for a better future, that's the best feeling ever." - Paige S., Court Advocate
Paige supports clients through emotionally draining court hearings and cases, which can include obtaining civil protection orders, child custody and divorce hearings, as well as criminal cases. Though Paige is a consistent presence in the courtroom, her job is one of moral support and education of the legal system, not providing legal advice, a common misconception she says people have. 
Her favorite part of the job is seeing WomenSafe clients' victories in the courtroom. "I find it rewarding because I see concrete successes when they win their case. That's a great feeling." Paige remembers one particular client who came to the shelter and was fighting to win back custody of her kids. Paige was there when the client won her case and was reunited with her children. "It was so great to be a part of that and see the reunion in person," Paige said. 
Paige enjoys getting to collaborate with other agencies in the community and is happy to work with a "hard-working and supportive team" at WomenSafe. And the organization feels immensely lucky to have her!
---
What Paige's CoWorkers Have to Say:
"Paige has been my life saver with court advocacy. Paige is always willing to help not only myself but others with tasks that come up. On top of just being amazing!!" Holly H., Day RCS/Court Advocate
"Paige is an amazing team player! She always comes to work with a smile and goes above and beyond in assisting others with their needs." Megan B., Housing Coordinator
"Paige is a social justice warrior. We recruited her to Court Advocacy because she uses knowledge and passion to advocate for what is right for our survivors." Jessica M., Chief Clinical Officer
"Paige has literally transformed our court advocacy program. She is extremely reliable, professional and knowledgeable of the legal processes and always looking for new opportunities to expand this knowledge! Paige truly wants the best for all the survivors she meets." Gina L., Assistant Director of Victim Advocacy
---
Get to Know Paige in Her Own Words:
Q:  How long have you worked for WomenSafe?
A:  3 years next month
Q:  What are three words your coworkers would use to describe you?
A:  Hard-working, reliable, and a little sarcastic (or a lot)
Q:  What do you like to do in your free time?
A:  Go hiking, play video games, and play with my puppy, Micky!
Q:  If you could learn to do anything, what would it be?
A:  I'd love to learn how to sail.
Q:  If you could meet anyone, living or dead, who would it be?
A:  Steve Irwin, we need more compassionate, positive people in the world
Q:  If you won the lottery, what is the first thing you would purchase?
A:  A bigger house for all my animals!
Q:  If you could visit anywhere in the world you've never been, where would you go?
A:  Ireland
Q:  What is your favorite holiday tradition?
A:  Getting the whole family together for Thanksgiving and helping my mom prepare dinner.
Q:  What's a fun fact that not many people know about you?
A:  I've been a pescatarian since I was 9 years old.
Q:  What is at the top of your bucket list?
A:  Doing a food and wine tour of Italy and France. 
Q:  What's a work-related accomplishment you're really proud of?
A:  Any time I can help a client win a protection order case feels like my biggest accomplishment. 
Q:  Who or what inspires you?
A:  I'm inspired by anyone who makes an effort to leave the world a better place.