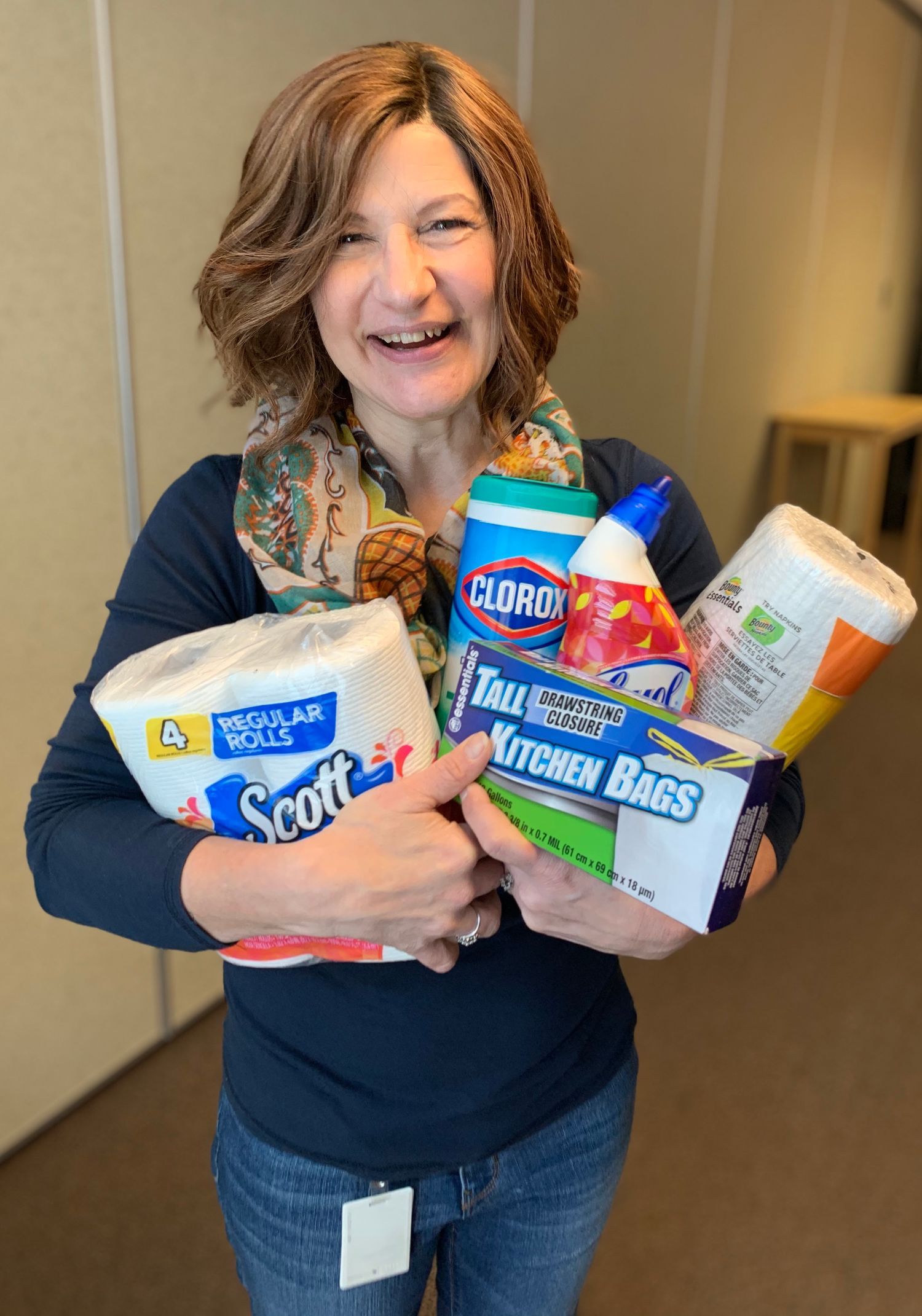 Employee: Michele F.
Job Title: Donations Coordinator
Michele has been an important asset to WomenSafe since joining the team as the Donations Coordinator three years ago. Her positivity and willingness to help others makes her the perfect fit for her role. 
Michele provides WomenSafe clients with whatever they need while they're staying in shelter. Whether they need clothes, shoes, baby items, or personal effects, Michele is there to help.
"It feels to them like you just brought them the world," Michele said. "I can't help but feel maternal. Letting them know they're not alone, that they matter, and that there is a way out." 
When clients are ready to move out and into a life of their own, Michele is also there to make sure the client is taken care of. She gives the client a reestablishment packet with resources for moving, services that might be helpful, and she also provides donations such as furniture, housewares, and whatever type of household item the client might need.
Michele is also in charge of accepting and sorting through donations. All donations are kept in what is known as "Roe's Closet," WomenSafe's onsite donation center. Since Michele started, Roe's has transformed into an organized-lover's dream, with everything neatly stacked and labeled in their designated areas. 
Michele gets to experience a lot of charitable contributions from the community. "It's overwhelming to me how much people want to help," Michele said. Learn more about one young donor Michele worked with this past holiday season who touched everyone's hearts here. 
Not only is Michele kind-hearted, she's also super talented. Michele is an accomplished singer who can be found performing with her band, DuoPhonic, in the local area. 
---
What Michele's Coworkers Have to Say:
"To pick just a few good qualities about Michele is a challenge because there are so many! No matter what she is doing, from cleaning and moving furniture to putting together beautiful baskets for our auctions and working with volunteers, she always greets each new task with a smile and a willingness to help. She is talented far beyond her job responsibilities at WomenSafe, and brings her compassion and thoughtfulness into everything she does. I am so grateful to have her as part of our team and for everything she does to help WomenSafe (and our clients) thrive!" – Megan F., Development Director
"Michele is an amazing asset to WomenSafe. She is creative, organized, and so personable that even in her busiest moment she will always make you feel like she always has time for you. It is a gift to work alongside Michele." – Andrea Gutka, CEO
"Michelle is one of the most dedicated, hard working, down-to-earth, and caring person I have ever worked with. I love working with her." – Tricia G., Donations Volunteer
"Michele has brought so much love, organization and laughter to the donations program. You can see how much she cares about the clients through each donation request she thoughtfully fills. She goes above and beyond to make sure their needs are met. We are truly lucky to have her apart of our team!" - Elizabeth J., Development Associate
"Michele is so sweet and is so nice to everyone she talks to. I don't think I've ever seen her get upset or lose her cool over anything! She's one busy lady, but she never fails to stop and say hi to someone she passes. I've really enjoyed getting to know her and find her a pleasure to work with!" - Stacy E., Geauga County DV Coordinator
---
Get to Know Michele in Her Own Words:
Q: How long have you worked for WomenSafe?
A: 3 years this Feb!
Q: What are three words your coworkers would use to describe you?
A: Busy, too nice, and patient
Q: What do you like to do in your free time?
A: Sing in my duo, hang with my daughter, read, hike, go junkin, remodeling and repurposing
Q: If you could learn to do anything, what would it be?
A: Learn to play guitar and piano. The music is in my head, I just can't make it happen!
Q: If you could meet anyone, living or dead, who would it be?
A: Either Alfred Hitchcock or Pat Benatar (she's my girl crush)
Q: If you won the lottery, what is the first thing you would purchase?
A: A little home by a beautiful lake to retire in!
Q: If you could visit anywhere in the world you've never been, where would you go?
A: I haven't been able to do much traveling in my lifetime, but would love to go to Italy and Scotland.
Q: What is your favorite holiday tradition?
A: Taking a pic of my hubby helping our daughter put the angel on our tree. As the years go by the pics get funnier and funnier!
Q: What's a fun fact that not many people know about you?
A: I do a killer impression of Rosanne Rosanna Danna, and I have double jointed knees.
Q: What is at the top of your bucket list?
A: Write and record my own music
Q: What's a work-related accomplishment you're really proud of?
A: Adopt A Family Christmas Program
Q: Who or what inspires you?
A: I am inspired by the imaginations of so many artists and musicians
Q: What is your favorite thing about working at WomenSafe?
A: Knowing that we are making a positive impact in the lives of many individuals and families. And the women I work with are really fantastic!