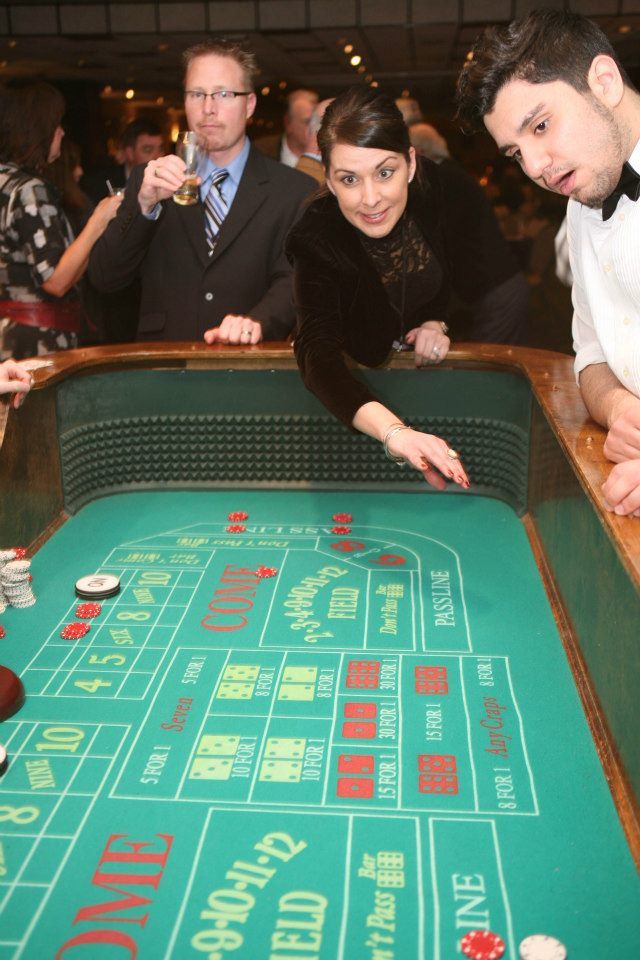 After the holidays, most people take January to rest and recoup from the hustle and bustle of December. Here around the Green House, we like to stay busy. 
Instead of taking it easy, we spend January diving head first into planning our largest fundraiser of the year: Casino Night! This annual event has raised money for WomenSafe for 18 years, and although it has evolved and grown, this tried and true event has lasted the years for a reason.
Casino Night History
Berkshire Hills 2002 - 2007
Casino Night held its first event in 2002. For the first few years, the event was held at Berkshire Hills Country Club. This was a great location and venue, however, the large hill that was necessary to climb to get to the hall was a bit strenuous on our attendees. Our crew went into problem solving mode and found a limo driver to donate his time and shuttle people up and down. This was very helpful, especially as our guests were carrying out the many prizes that they won!
In those days, a group of volunteers (Peg G., Nancy Z., and Marge J., to name only a small few) helped run the Silent and Chinese auctions. Volunteers would spend time in Peg's basement grouping items together, making beautiful baskets and bows, and assembling prizes. When Peg decided to build a house, it was a stipulation of the move that she have a walkout basement to make it easier to transport the plethora of baskets and prizes she made for our fundraisers! Although Peg is not as ingrained in Casino Night as she used to be, she still supports the event and the Green House throughout the year, and we love when we get to see her face!
Sun Valley 2008 - 2011
After the space at Berkshire Hills had been outgrown, Casino Night was moved to Sun Valley, where the WomenSafe crew stepped up the event. In 2010, 250 attendees came out to show support for WomenSafe and enjoy a fun evening with family and friends. Boas and a photo booth were introduced for a fun touch, but the casino gaming didn't stop! Every year, a professional gaming company comes in to make sure our attendees receive the full Vegas treatment, decked out with Black Jack, Roulette, Craps, and slot machines. Chips are turned in at the end of the night in exchange for tickets to be used with certain Grand Prizes, but there are lots more ways to win! Auction prizes, wine pull, 50/50 raffle, $1,000 raffle, dessert dash, and more have all been included in the past to help entertain and treat our guests.
Patrician Party Center 2012 - Present
The event has been held at the Patrician Party Center in Eastlake since 2012. There have been several different themes throughout the years, including Rat Pack, Mardis Gras, 007 Casino Royale, and of course this year's theme, Roaring Twenties! Being in Northeast Ohio, we have battled everything from snowstorms, icy winter days, rain, and even had some sunshine once or twice. One thing stays the same, however, and that's the amazing support we receive from donors, volunteers, and attendees from the community. These events wouldn't be possible without the care and compassion from individuals that keep WomenSafe in their heart.
Helping Survivors of Domestic Violence
One of three major fundraisers that WomenSafe holds throughout the year, Casino Night funds go directly to the Green House to ensure that WomenSafe's free, life-saving resources continue. In addition to our 24-hour shelter and hotline COPEline, these funds help support our long list of other services, including counseling, art therapy, court advocacy, parent mentoring program, employment specialist, relocation services, aftercare, and more. In addition, these funds help the shelter continue to run, paying for bills like our heat, electric and septic maintenance. These bills may not be a direct social service to our clients, however they rely on them to keep them warm on these frigid days, to keep the lights on in the shelter, and to continue living with peace of mind, something many of them don't have anywhere else.
"Every year there has been some wonderful new way to make Casino Night better than it was in the past. Our team is always coming up with innovative and fun ways to make it exciting for our attendees, and it has been so fun to watch it grow over the past 15 years!"

                      –Andrea Gutka, WomenSafe CEO
These events not only help raise funds for the Green House, where up to 32 survivors of domestic violence take nightly refuge from the terror of violence in their own home. They also help us create advocates in the community. We like to call our fundraisers "friendraisers", because with every event, we are reaching more individuals with WomenSafe's resources. One of the top reasons somebody doesn't leave their abusive relationship is because they don't know what amazing resources they have access to; and with every event we host, more people become advocates for WomenSafe. 
You never know when you will run into somebody that may need WomenSafe's free, life-saving resources. One day, you may even find yourself needing them. But WomenSafe will always be here, to support and advocate for survivors of domestic violence. Together, we can make this year's 19th Annual Casino Night the best yet!