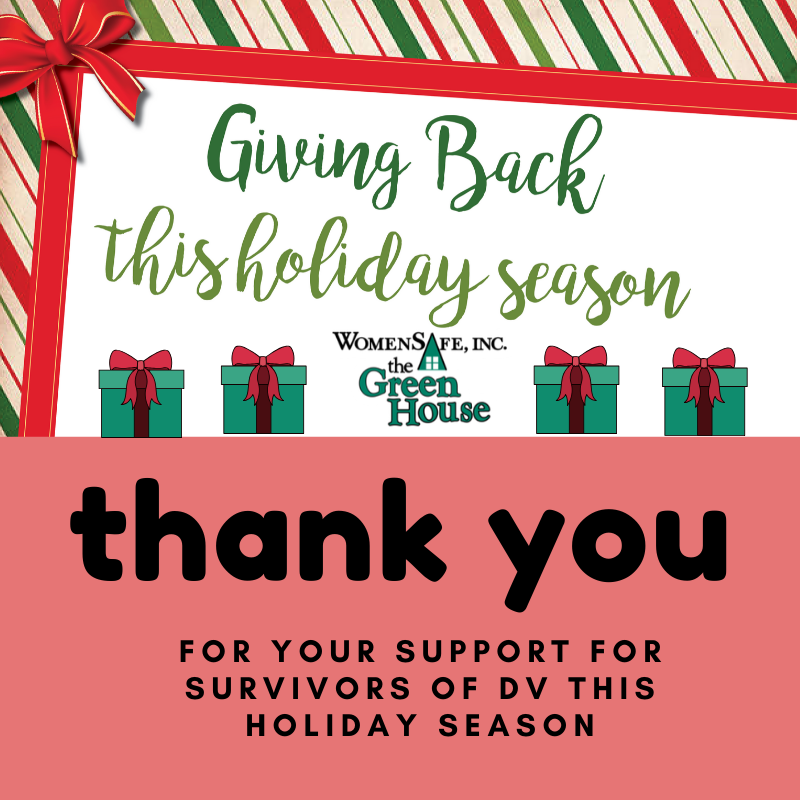 Did I bake enough cookies?
Did I put up the Christmas lights?
Is the Christmas tree watered?
Did I order that toy in time?
So many things to do during the holiday season, and it seems that every year the list grows longer. Christmas concerts, company holiday parties, secrets Santa exchanges and other fun activities can quickly fill up our schedules and make this magical time of year fly by.
But what if instead of a list of people to bake and buy presents for, your list of questions was very different.
How will I keep my kids warm? Their coats are two sizes too small and have holes in them, and I have no hats or gloves to give them.
How will I feed my kids tonight? I have no food to cook dinner for them.
Will he find us tonight? We left in the middle of the night and I know he is out there looking for us. Please, let us have a nice Christmas morning.
This is the reality for the survivors of domestic violence that have left their abusive relationship this holiday season and have made the brave, and often times life-saving decision to call WomenSafe. These survivors of domestic violence have made the choice to make their lives better, for themselves and for their children, and with the help of WomenSafe's free services, are on their way to a safe, independent life.
But life isn't just about making it to the next day. Life must be lived, and with the support of amazing donors from our community, WomenSafe makes sure that every survivor of domestic violence in our care not only is safe this holiday season, but that they enjoy it.
Each year, any individual that used our services throughout the calendar year qualifies for our Adopt-a-Family Holiday Program. Families fill out a wish-list that includes clothing sizes, lists of favorite toys/characters, household items that mom/dad needs, etc. This is then passed along to our army of donors to shop away. After buying gifts for the family, each donor drops them off to the shelter where they are organized, wrapped by volunteers, and given to the survivors who are eagerly waiting.
This year so far, WomenSafe has helped 80 families! Even with all the extra work our advocates and Donations Coordinator do this time of year, none of this would be possible without the support of donors and volunteers from our community. Below is a short list of a few of the donors that have included WomenSafe in their holiday giving. We would like to say "thank you" to each and every individual and organization that kept survivors of domestic violence in their thoughts. With the busyness of this time of year, it can be easy to lose sight of what this season is about. Lucky for us, our community put forth an incredible effort to make sure that their neighbors who are struggling also have a magical time of year. Thank you to:
Geauga County Public Library
Penny Bridge Club
Middlefield Bank
Bev Corp
Bainbridge Library
The Purple Sock Project
GIVEBACK Project
Chesterland Baptist Church
Lord of Life Church
Kenston Intermediate School
St. Helen's Catholic Church
St. Mary's Church
PROFORMA
Girl Scout Troop #71291
Junior Jacks Hockey Club
HomeSmart Real Estate
Fairport Harbor Yacht Club
Tremco Roofing & Building Maintenance
High Adventure Girl Scouts
Geauga Student Nursing Association
Holy Angels Church
This is just a small list of the many individuals that helped WomenSafe this holiday season. Our hallways were filled with smiling volunteers that came to help wrap the many gifts floating around, often times bringing with them their own baked goodies for our staff and clients. Our hearts are overflowing with the amount of love and support we have been shown this season, and we are reminded of all the good there is in the world.
As we look back on this blessed holiday season, we can't help but think of the word philanthropy. Many of you know the definition of this common word, "the desire to promote the welfare of others, expressed especially by the generous donation of money to good causes." (dictionary.com) However, it can be broken down even more. The Latin word philanthropia comes from 'phil' (meaning loving) and 'anthropos' (meaning mankind). When we break down to the root of this powerful word, we are left with "loving mankind", which speaks volumes in itself.
We are truly grateful that our community loves mankind, and shows it through supporting the many wonderful organizations helping our neighbors. Tonight, 22 women and children are calling WomenSafe home, and they have peace of mind because of our amazing family of donors.
Thank you for helping us, help others this holiday season, and all throughout the year. May you and your family have a blessed holiday season and a prosperous New Year!
For more information on donating or how to get involved for next year, contact Michele at wsdonations@womensafe.org or 440-286-7154 x 230.