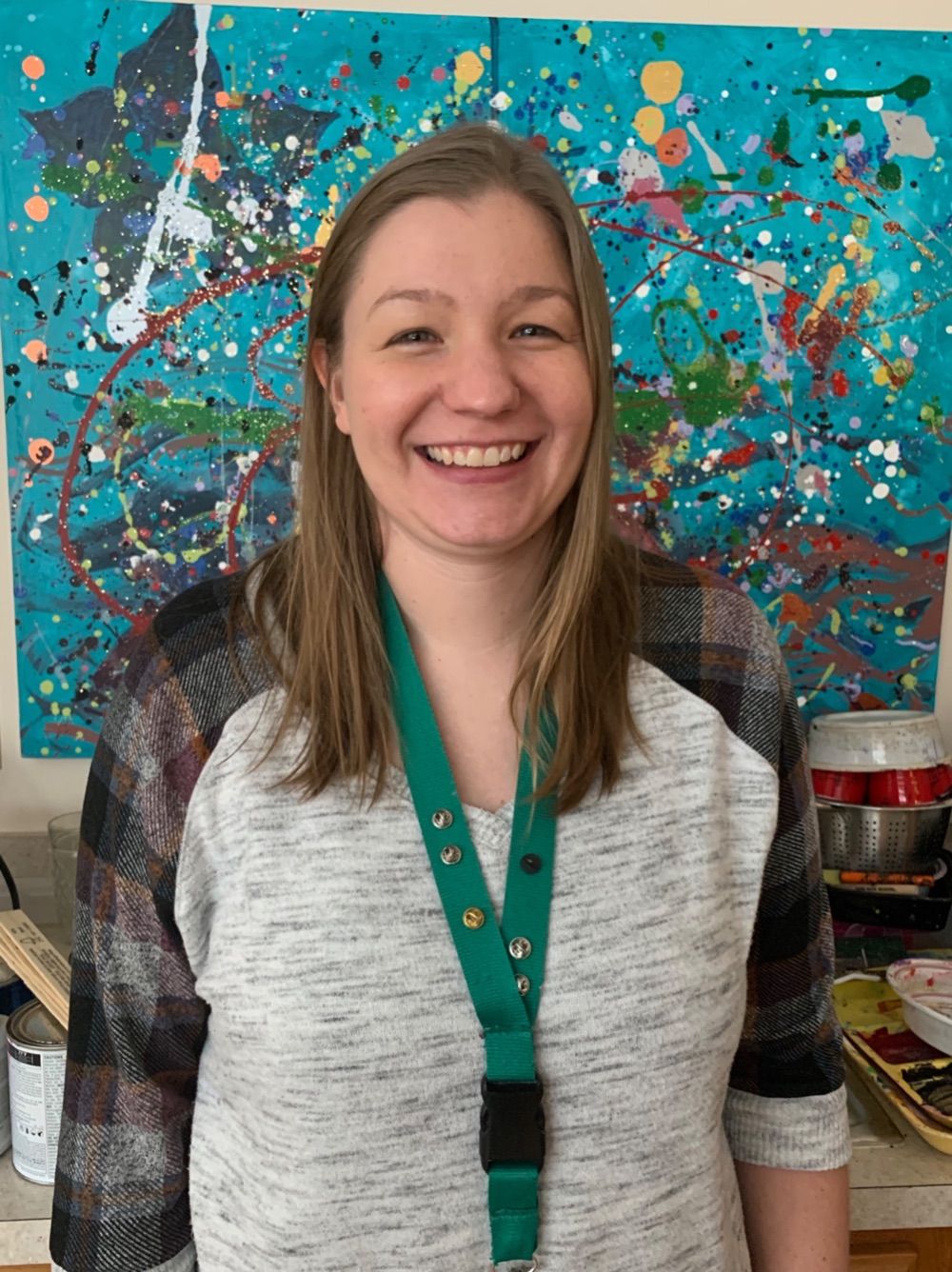 Employee: Liz B.
Job Title: Art Therapist/Clinical Counselor
Liz has been an important asset to WomenSafe for the past six-plus years. As a full-time Clinical Counselor, Liz sees multiple clients a day to talk about the hardships they've been through. Liz says she likes being a sounding board and helping clients gain insight to learn things about themselves, which gives them the opportunity to succeed. 
Along with being a counselor, Liz is a trained Art Therapist. Clients have the option to do art projects while they're meeting with Liz as a way to get creative while talking about what's going on in their lives. Liz will greet the client by asking "What would you like to do today?" The creative options include painting, coloring, crafting, clay sculpting, making masks, journaling, and so much more. WomenSafe relies heavily on donations and grants to supply these art tools, and it is well worth it when Liz gets to see a client relax and take a break from the reality of the trauma they've been through. "The clients can have a choice and it gives them the opportunity to use their own voice in their own way," Liz says. "It's very rewarding."
Liz enjoys working for WomenSafe and feels it is a very welcoming environment. "We have a good core," Liz says. "And that good core provides the strength for the clients who come through to break their barriers." And Liz is a great gateway to help them get there. 
To learn more about our Art Therapy program, be on the lookout for a future blog post that will highlight this creative and popular service. 
---
What Liz's Coworkers Have to Say:
"Liz is one-in-a-million! Her calm demeanor, smarts, and willingness to help and support is greatly appreciated by all of us at WomenSafe!" - Andrea Gutka, Chief Executive Officer
"Liz is one of the most creative and accepting people I know. Liz is up for challenges and has high standards for herself. I just do not want to be an opponent against her in a game or contest because she strives to win all the time!" - Danielle V., Clinical Therapist
"Liz is a peaceful and grounded person that brings a calming influence to all she meets. She makes others feel heard, cared for, and appreciated." - Jessica M., Chief Clinical Officer
"Liz helped train me when I first started at WomenSafe, and I quickly learned what a kind and compassionate person she was. She is always willing to stop what she's doing to lend a hand, help fix problems in CATT, plan art therapy projects for both staff and clients, or man the grill for our cookouts. I'm so thankful Lizard is on our team!" - Megan F., Development Director
"Liz is such a pleasure to work with! She is always willing to answer questions or help out in whatever way she can. Liz is very creative and willing to experiment with new art media to better learn how the process works. One quote I hear her say often is 'and all that jazz' which is just fun to hear whenever she says it." - Melissa N., Clinical Counselor and Art Therapist
---
Get to Know Liz in Her Own Words:
Q:  How long have you worked for WomenSafe?
A:  6 years
Q:  What are three words your coworkers would use to describe you?
A:  Creative, chill, competitive
Q:  What do you like to do in your free time?
A:  Play board games, watch Cleveland Indians, paint miniatures, read, hobby building/creation or home improvement projects with my hubby
Q:  If you could learn to do anything, what would it be?
A:  Play the guitar or improve woodworking skills
Q:  If you could meet anyone, living or dead, who would it be?
A:  Dietrich Bonhoeffer
Q:  If you won the lottery, what is the first thing you would purchase?
A:  An ice cream cone
Q:  If you could visit anywhere in the world you've never been, where would you go?
A:  Slovenia
Q:  What is your favorite holiday tradition?
A:  Christmas Eve dinner: Slovenian sausages with oil and vinegar potatoes
Q:  What's a fun fact that not many people know about you?
A:  I love baking pies
Q:  What is at the top of your bucket list?
A:  Take Amtrak train ride cross country
Q:  What's a work-related accomplishment you're really proud of?
A:  Assisting the switch to electronic medical record
Q:  Who or what inspires you?
A:  People and their stories, finding ways to get through the most difficult of life experiences