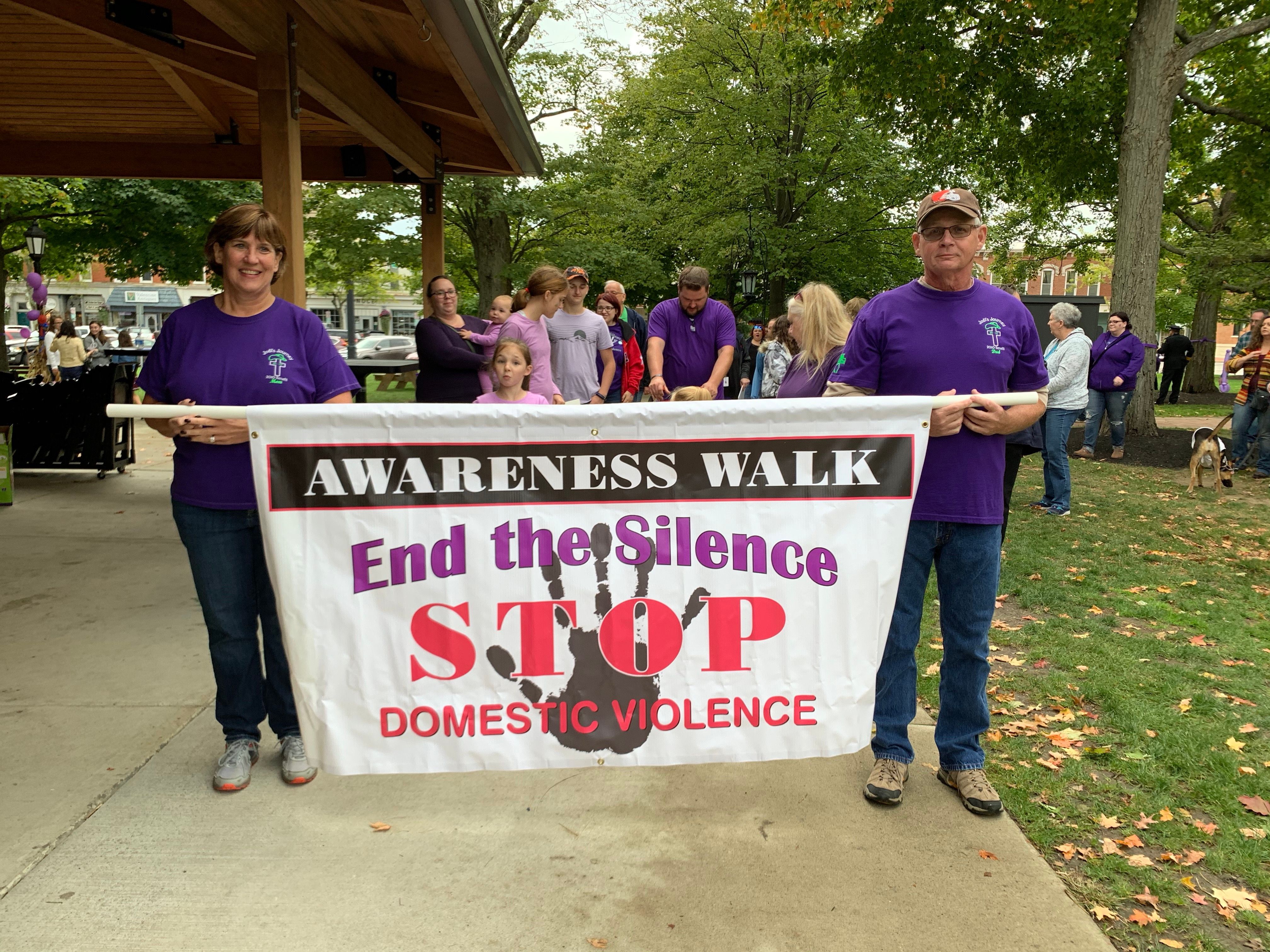 October is nationally recognized as Domestic Violence Awareness Month. It's our busiest month of the year here at WomenSafe as we educate the surrounding communities about the effects of domestic violence. This past month was no different. Below are some highlights on how we recognized DVAM this year.
Domestic Violence Awareness Walk Event  
We held our 2nd Annual Walk Event on October 6th in the Chardon Square. It was a successful day, even with the weather threatening to rain on our parade. Families and patrons got to enjoy booths and activities set up by many different Geauga County agencies, food trucks were on hand to serve yummy treats, and the uber-popular Chardon Polka Band was on hand to play their infectious music for the crowd.
Congratulations to the following individuals who were awarded for their contributions to our community in the past year:
Top Advocate: Happy Dicenso 
Top Volunteer: Alexis Klein
Top Law Enforcement: Robin Taylor
Check out our video of the event here. We're already planning and looking forward to next year's event!
High School Football Games 
Every year we recruit high school football teams from Geauga and Lake counties to help us raise awareness for domestic violence at one of their home games in the month of October. This year, we had 10 schools participate in which the players wore purple ribbon decals on their helmets and the cheerleaders wore purple bows in their hair. A compilation video of pictures taken from these games can be found here. Thank you to all the schools who contributed this year!
Outreach in Schools
Our outreach team were out and about in the community this month, with a particular focus on the surrounding schools. Stephanie and Stacy were in the middle and high schools of Geauga and Lake counties educating teens on what a Healthy Relationship looks like. We also went to Kent Geauga college where we presented to the faculty and students about domestic violence, as well as WomenSafe's services. We also set up a resource table at Lakeland Community College during Mental Health Awareness Week to promote our services and the importance of self-care/counseling. Through these events, we were able to reach hundreds of students and community members throughout the month of October!  
Community Donations
Donations are taken year-round, but October saw an increase, particularly with clothes donated to the shelter. Along with donations from the community, these fine folks also helped out: 
Lake & Geauga Area Association of Realtors

donated pumpkins for Halloween. 
The Great Lakes Mall Dillard's team held a fundraiser for us and donated new intimate apparel with the funds, along with gently used purses. 

The Chardon Education Association

donated book bags full of school supplies for the kiddos staying in shelter.
Lord of Light Lutheran Church collected highly needed items for our shelter including toilet paper, paper towels, laundry detergent, and cleaning supplies.

The Beauty Bar

donated hair products, flat iron straighteners, and brushes.
Thank you to these wonderful organizations and to everyone who donates to our shelter to make life a little bit easier for our survivors.
October was busy and with the holiday season fast approaching, things won't be slowing down here any time soon. And that's just the way we like it!