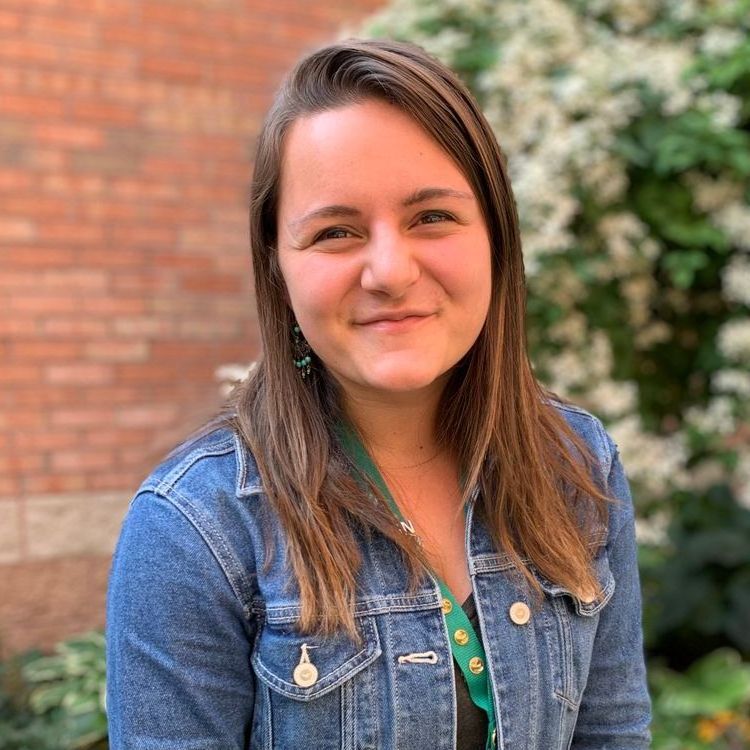 Who: Savannah C.
Job Title: Housing Coordinator
Savannah has been with WomenSafe for six months and has already made a huge impact among the clients and her fellow coworkers with her lively personality and go-getter attitude.
Savannah is WomenSafe's Housing Coordinator. She works with shelter clients who are ready to move out on their own to help them find adequate housing and resources they need. This includes helping clients fill out applications for public housing, housing and apartment searching, and talking to landlords on the clients' behalf. She's even helped a couple clients move out of state!
Savannah loves working with our clients and has learned a lot about how to communicate with different personalities while using trauma-informed care. "I love being able to motivate people," Savannah said. "Letting them know we're here for them and setting goals to get them comfortable on their own is one of the best parts of the job." 
"Advocating for people who are going through what may be the worst time of their lives, and helping them learn that they do have the ability to start over and be independent is why I come to work every day."
Though she's only in her early twenties, Savannah has already traveled the world as a Missionary Volunteer. During her three years as a volunteer, Savannah traveled to Costa Rica, Morocco, Spain, Netherlands, Panama, and had a home base in Mexico. Thanks to her time spent in these countries, Savannah is fluent in Spanish! This skill has come in handy while working with non-English speaking clients (see her answer in the Q & A below about the work-related accomplishment she's most proud of to learn more).  
WomenSafe feels lucky to have Savannah on its team!
What Savannah's Coworkers Have to Say:
"Savannah hit the ground running day one! We actually spent a very confusing first day together and she was flexible, understanding and always eager to learn. I appreciate this continued attitude every time we chat! We are lucky to have this powerhouse on our team! PS Did I mention she's strong???" – Andrea G., CEO
"I truly enjoy working with Savannah. From her start at WomenSafe, she has jumped into her role and taken the bull by the horns. Her unique experiences have brought a lot of value to her job as an advocate, and I love hearing her new ideas and perspectives. Her warm smile and friendliness lights up a room!" – Megan F., Development Director
"Savannah has been super fun to work with always and willing to help out! Her knowledge of the Hispanic culture is very interesting and love to hear about it!" – Holly H., Lead RCS 
"If there is ever an opportunity to help in any way, Savannah is right there. Even if it's her day off and she came in at 4am and worked 10 hours-she is determined to assist in anyway.  Her fluent Spanish speaking ability is impressive as well! So happy she's on our team!" -Bonnie G., Events Manager
"If you've ever had a conversation with Savannah, you will quickly learn that she has a zest for culture, travel, adventure, and most importantly, doing good for others. Savannah has many passions and has done just about everything you can imagine! It's fascinating to say the least. She has lived an enriched life, and will no doubt go onto do great things, and inspire others." – Kim S., Assistant Director of Victim Advocacy
Get to Know Savannah in Her Own Words:
Q: How long have you worked for WomenSafe?
A: Since March 2020
Q: What are three words your coworkers would use to describe you?
A: Dedicated, direct, and passionate
Q: What do you like to do in your free time?
A: I love being outdoors and doing things that get your heart rate up. I'm a big fan of running, boxing, and hiking with my dog. 
Q: If you could learn to do anything, what would it be?
A: Speak lots and lots of different languages.
Q: If you could meet anyone, living or dead, who would it be?
A: Louis Zamperini. He was an Olympic runner in 1936, then joined the army in 1941 and was captured as a POW in Japan. His story of recovery and faith is very inspiring. Read the book Unbroken!
Q: If you won the lottery, what is the first thing you would purchase?
A: Travel tickets to so many places in the world... and lots of outdoor equipment for things like mountain/rock climbing. 
Q: If you could visit anywhere in the world you've never been, where would you go?
A: The list is long, but near the top of list is Italy, Nepal, or Vietnam. 
Q: What is your favorite holiday tradition?
A: Having my grandma's homemade coffeecake on Christmas morning!
Q: What's a fun fact that not many people know about you?
A: I have done archery since I was about 7-years-old. 
Q: What is at the top of your bucket list?
A: To compete in an Ironman. It's a triathlon race that consists of a 2.5 mile swim, 112 miles of biking and then running a full marathon (26 miles).
Q: What's a work-related accomplishment you're really proud of?
A: An accomplishment that I feel proud of was a time that I received a call from a previous client who was seeking help from us concerning some immigration issues. I noticed that English was not this person's first language and asked her if she felt more comfortable speaking in Spanish. She could not have been more relieved. She proceeded to share with me the hardships and abuse that she had been through in the past years. She shared with me her fears and hopes for the future. She told me that being able to have this conversation in her own language changed everything for her that day and that she has very rarely been able to discuss her abuse and share her fears in her own language. She said that she was amazed that she just happened to contact someone who spoke Spanish. I felt very proud to be able to use my second language to help this woman through a crisis. 
Q: Who or what inspires you?
A: I have a strong faith in God, and He is what keeps me going every day. Knowing that God has a plan for my life, and that He has called me to work at WomenSafe for a reason is a never-ending source of inspiration for me.