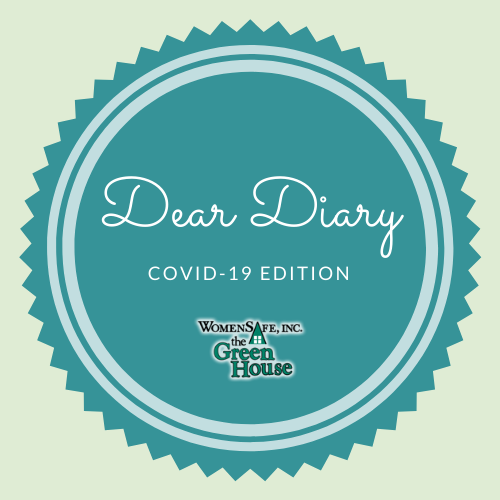 5/15/2020
Dear Diary…
We are celebrating the close of Week 9 and thankful that our staff and clients remain healthy and well during this Coronavirus Pandemic. We continue to provide support to survivors of domestic violence both in and out of shelter.
This past week we have seen a few more faces around the shelter. Some of our newer residents are adjusting to shelter life and being wonderfully supported by our staff. We continue assisting clients with goal related needs and still remain a fully operational emergency shelter. We are monitoring our daily census to keep it below the total bed occupancy in order to maintain social distancing for residents (if at all possible).
We continue to rely on the community and our law enforcement partners to assist, but we also know that in this isolated community often survivors are left alone and unable to get others involved safely. WomenSafe continues to be here to support survivors. Anyone in need of assistance should call 1-888-285-5665 for 24/7 crisis needs.
We have begun to open our office doors a bit more this week but are still operating pretty conservatively with staggered administrative staff and adjusted hours for direct care staff to make sure there is consistent coverage for the shelter. We realize that we need to bring additional staff and clients back into the building with significant and careful planning. Through the month of May, I am confident this will happen. We are wearing masks onsite and will greet you at the door with masks on. Our guests will be asked to do the same. 
Our Development and Finance Teams are in grant writing mode. Some of these grants are specifically related to COVID and others are requests for renewal in funding to keep fighting this fight against domestic violence. I also certainly appreciate the funders who have reached out for updates and also to help.
We are also in the midst of making plans on the reopening of the Resale Shoppe. This is a critical revenue stream for WomenSafe, but we continue our careful planning on the process to reopen those doors. The WomenSafe Resale Shoppe Team has been onsite to begin cleaning and setting the store to follow best practices regarding donation acceptance, traffic patterns and check out procedures. There will be more information to come.
At this time, we are looking to take it slow with a bit more of a staggered opening. We appreciate the continued calls about the Shoppe and the plans for the future. We also really appreciate the support of the community who is also waiting to visit. 
Thank you Amazon shoppers…you continue to deliver! The donors who have shopped our Amazon wish list (Amazon COVID-19 Wish List),mailed checks to 12041 Ravenna Road, Chardon, Ohio 44024 and also made financial contributions via our website are awesome. Keep shopping! 
Our most needed items this week include face coverings, gas cards, paper products and cleaning supplies, women's underwear, and food (meat, produce, snacks, juice).
I continue to close with a list of some of the things I (and many others) are grateful for:
My coworkers/friends - I am grateful that we are remaining healthy and well. It has been awesome to see additional faces onsite. I am beginning to "read through the mask" and assume when people are smiling. I am also thankful that so many staff have reached out to former clients to check in and also offer assistance with basic needs and support.
My family - I am thankful to work from home also thankful that school is almost over. The kids are anxiously awaiting a trip out…somewhere…I look forward to a road trip in the near future.
Technology - I am grateful for learning things I thought I would never need to know! COVID is just one of the new concepts crammed into my mind…also managing remote work, a remote team, HVAC systems, infection control and management, and all the rules, rules, rules J I think my mind is overloaded.
Those random acts of kindness - I love that people are continuing to think of each other during this time. Just today, I was thinking how lucky I am to work with a group of people who care so much about each other. We had our staff meeting this week and with a suggestion from Kathryn, we were able to put some chairs by the front pond to enjoy the sunshine, we had a social hour yesterday coordinated by Liz…it was fun to play games and laugh (a lot!), Amanda was organizing and cleaning the staff refrigerator, and Michele took the time to detail the agency van. It goes beyond just doing your job…it's going above and beyond to let your team know that you are thinking of them. We have a wonderful community who is thinking of us during this time. I am lucky to call many my coworkers, friends, and family.
As always…I'm grateful to be an Ohioan! We remain patient and strong. It sounds like after this heavy rain ends, we may be able to have dinner outside at a restaurant. True confession, I am really looking forward to my hair cut next week. 
Remember…nothing changes, if nothing changes.
Thank you for keeping WomenSafe in your thoughts and prayers…
Cyber hugs to all of you…
Andrea
Andrea Gutka, CEO/Executive Director
WomenSafe, Inc., the Green House