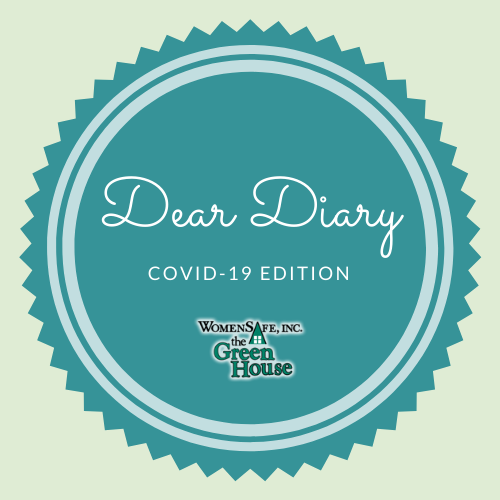 5/8/2020
Dear Diary…
Week 8 is drawing to a close of WomenSafe's successful operations during the Coronavirus pandemic. I am thankful that our staff and clients remain healthy and well. We continue to provide support to survivors of domestic violence both in and out of shelter. 
This past weekend many of our clients were able to enjoy the drive through Maple Festival. The weekend was certainly beautiful (a polar opposite of today) and I think it did us all a bit of good to just get outside and enjoy the sunshine and some fair food. A volleyball net was also set up so clients could further enjoy the beautiful weather.
We continue assisting clients with goal-related needs and still remain a fully operational emergency shelter. We are monitoring our daily census to keep it below the total bed occupancy in order to maintain social distancing for residents (if at all possible). Hotline calls are down overall and we fear it may be due to survivors not having an opportunity to escape their homes safely.
NNEDV launched the DocuSAFE app this week. DocuSAFE is a free documentation and evidence collection app that helps survivors, collect, store, and share evidence of abuse. Survivors can document the incidents, including any photos, screenshots, video communication, etc. This will be particularly useful for isolated survivors are individuals unable to leave their abuser just yet. I do envision it as a tool our advocates will be using as we are constantly discussing safety planning with callers. 
We do continue to rely on the community and our our law enforcement partners to assist, but we also know that in this isolated community often survivors are left alone and unable to get others involved safely. WomenSafe continues to be here to support survivors. Anyone in need of assistance should call 1-888-285-5665 for 24/7 crisis needs.
We began to open our office doors physically a bit more this week but are still operating pretty conservatively with staggered administrative staff and adjusted hours for direct care staff to make sure there is consistent coverage for the shelter. We are proud that our WomenSafe team continues to remain productive both on and offsite. We realize that we need to bring additional staff and clients back into the building with significant and careful planning. Through the month of May, I am confident this will happen. We are wearing masks onsite and will greet you at the door with masks on. Our guests will be encouraged to do the same.
Our Development and Finance Teams are in grant writing mode. Some of these grants are specifically related to COVID and others are requests for renewal in funding to keep fighting this fight against domestic violence. In addition, WomenSafe was able to take part in an incredibly successful #GivingTuesdayNow campaign this week. Check out the WomenSafe Facebook page to see the amazing 24 Hours of Gratitude that our staff put together to thank the community for their support during this time.
We are also in the midst of making plans on the reopening of the Resale Shoppe. This is a critical revenue stream for WomenSafe, but we continue our careful planning on the process to reopen those doors. The WomenSafe Resale Shoppe Team took a moment to survey the volunteers on reopening the shoppe and share ideas. One of the most powerful statements we received was from a volunteer who said, "I believe that we will go forward because the premise of the Shoppe to support the shelter is too important." Wonderful…we will press on…
Thank you Amazon shoppers…you continue to deliver! The donors who have shopped our Amazon wish list (Amazon COVID-19 Wish List), mailed checks to 12041 Ravenna Road, Chardon, Ohio 44024 and also made financial contributions via the WomenSafe website are awesome. Keep shopping! Our most needed items this week include face coverings, gas cards, paper products and cleaning supplies, women's underwear, and food (meat, produce, snacks, juice).
I continue to close with a list of some of the things I (and many others) are grateful for:
My coworkers/friends - I am grateful that we are remaining healthy and well. It has been awesome to see additional faces onsite. We need to remember that Ohio and WomenSafe is all in this together!
My family - I am thankful to work from home also thankful that school is winding down. With this said, my house has never looked more chaotic! We have work areas and projects going on everywhere. I can only imagine what it will look like when I return home tonight. Maybe I should just drop my briefcase and begin the cleaning tonight…or sleep…aren't we all just exhausted? It's Mother's Day this weekend and I am hopeful to go to my Mom's house and at least shout I LOVE YOU with the kids. Certainly another first we never expected. I know that I will never take a hug or kiss for granted again.
Technology - I am grateful for learning things I thought I would never need to know! COVID is just one of the new concepts crammed into my mind…also managing remote work, a remote team, HVAC systems, infection control and management, and all the rules, rules, rules! I think my mind is overloaded. I am also thankful for the launch of DocuSAFE (see above). What a great option for survivors to keep and store information that they may need in the future. It makes me take a pause as well… 
Those random acts of kindness - My daughter saw that my hair was literally everywhere and looking pretty crazy…she said Mom, "I'll help you color it and show you how to use a hair tie"…and I let her…who doesn't love all that they learn from a 15-year-old? We also threw some press on nails into the mix and made some dinner together. While not what we would think as a typical random act of kindness, I am grateful that my daughter knew I needed some help and a bit of TLC too…remember, young or old, you can't take care of anyone else unless you take care of yourself first!
We have a wonderful community who is thinking of us during this time. I am lucky to call many my coworkers, friends, and family.
I'll say it again…I'm grateful to be an Ohioan! We are all strong. It sounds like after this snow and cold period ends we may be able to experience a restaurant or hair cut again soon.
"I alone cannot change the world, but I can cast a stone across the water to create many ripples." ~Mother Teresa~
Thank you for keeping WomenSafe in your thoughts and prayers…and Happy Mother's Day!
Cyber hugs to all of you…
Andrea 
Andrea Gutka, CEO/Executive Director
WomenSafe, Inc., the Green House