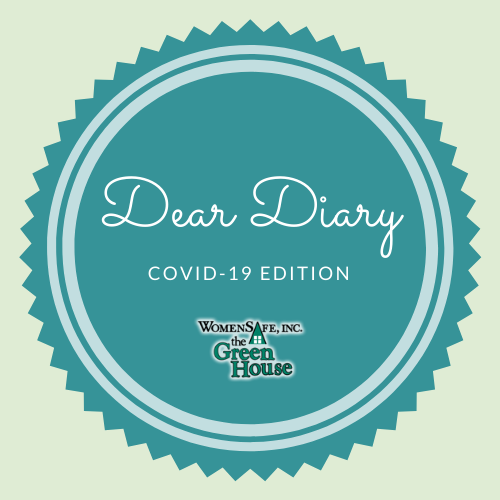 5/1/2020
Dear Diary…
Week 7 of dealing with the Coronavirus pandemic here at WomenSafe is complete! We are all still healthy, well and thankful. We continue to provide support to survivors of domestic violence both in and out of shelter.
Our clients are getting a bit antsy. We are working to provide some outdoor activities and also have had some wonderful recipes shared within the shelter. We are blessed to continue to assist clients with goal-related needs and still remain a fully operational emergency shelter.
We are monitoring our daily census to keep it below the total bed occupancy in order to maintain social distancing for residents (if at all possible). Hotline calls are down overall and we fear it may be due to survivors not having an opportunity to escape their homes safely.
I wanted to take a moment and share a link to a way to help survivors locally: https://bit.ly/2YDN34Q. We rely on the community and our our law enforcement partners to assist. In this community we are often without close neighbors, and fear that survivors are left alone and unable to get others involved safely. We need everyone's help to stay safe. Anyone in need of assistance should call 1-888-285-5665 for 24/7 crisis needs.
While we know that the office doors are able to open next week, it is our goal to take that slow. We are proud that our WomenSafe team continues to remain productive both on and offsite. While many direct care staff have adjusted hours to make sure there is consistent coverage at the shelter, we realize that we need to bring additional staff and clients back into the building with significant planning. Through the month of May, I am confident this will happen.
With many staff we will also work to make necessary adjustments with their schedules to make this additionally practical and safe. We are wearing masks onsite and encourage everyone to do the same no matter where they are. I am proud to be a part of this wonderful staff and extended family and as mentioned every week, I am looking forward to us all being able to hear laughter down the halls again.
We do know that Spring is here as we received the friendly reminder that the baby geese are by the pond…as are the snakes (yuck).
Our Development and Finance Teams are in grant writing mode. Some of these grants are specifically related to COVID-19 and others are requests for renewal in funding to keep fighting this fight against domestic violence. We are also in the midst of making plans on the reopening of the Resale Shoppe. This is a critical revenue stream for WomenSafe, but we continue our careful planning on the process to reopen those doors.
In the meantime, WomenSafe will also be taking part in #GivingTuesdayNow which is a special day (May 5) to support WomenSafe. Now more than ever, we are called upon to make a difference and we need your help.
I would also like to give a shout out to the Outreach Team who have been dynamic in providing additional tools to keep WomenSafe connected with our supporters, family, friends, and survivors. I had my first attempt at a Facebook Live "Convos in Quarantine" with my awesome Development Director (and friend), Megan Fisher. If you haven't seen it, please do. Megan is a natural and I look semi-terrified, but it was a great experience. Watch it here.
The Outreach Team is also planning to do their first virtual peer support group on May 7th at noon and at 6pm. For more information, email lakedvcoordinator@womensafe.org. 
  Thank you Amazon shoppers…you continue to deliver! We are grateful for the donors who have shopped our Amazon wish list (Amazon COVID-19 Wish List), mailed checks to 12041 Ravenna Road, Chardon, Ohio 44024 and also made financial contributions via the WomenSafe website to show they care. Keep shopping! Our most needed items this week include face coverings, gas cards, paper products and cleaning supplies, women's underwear, and food (meat, produce, snacks, juice).
I continue to close with a list of some of the things I (and many others) are grateful for:
My coworkers/friends- I am grateful that we are remaining healthy and well. It has been fun to be able to come together for virtual staff meeting this week. We are certainly united while being physically apart. Our WomenSafe Team is one in a million. 
My family- I am thankful to work from home and support the kids schooling efforts. We have certainly had our struggles with this adjustment as I am sure that many readers have. This said, we are looking forward to the weather breaking a bit so we can head outside and work a bit. We have done a couple of birthday celebration drive-bys for friends which is nice to see people from afar, but as a hugger, this is difficult. I know that I will never take a hug or kiss for granted again. I think my dogs might be getting sick of me though. They hear me on the phone or watch me at the computer and I wonder if they are just waiting for me to get back in my car and back to the office or if they are just waiting for their fifth walk of the day.
Technology- I am grateful for cyber meetings and trainings! There have been so many! I do think we all could use a bit of a break from the screens, but it has been a great opportunity to learn and also share. And did I mention Facebook Live??? That was certainly a learning experience as well! 
Those random acts of kindness -Still holds true…we have a wonderful community who is thinking of us during this time. I am lucky to call many my family, friends and neighbors…thank you also to the many generous folks who are taking a moment to check in…the thoughtful texts and emails certainly means so much!
I'll say it again…I'm grateful to be an Ohioan! We are all strong. Probably stronger than we even realized. 
It is a serious thing just to be alive on this fresh morning in this broken world…but have faith we won't be broken for long.
Thank you for keeping WomenSafe in your thoughts and prayers.
Cyber hugs to all of you…
Andrea
Andrea Gutka, CEO/Executive Director
WomenSafe, Inc., the Green House