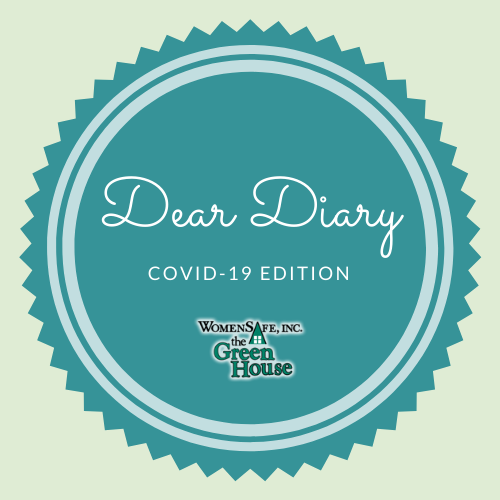 4/17/2020
Dear Diary…
We are surviving Week 5 of the Coronavirus pandemic here at WomenSafe. We continue to provide support to survivors of domestic violence both in and out of shelter.
Our clients continue to adjust to the changing needs of shelter. We are working to maintain goal-related appointments and are able to still offer onsite support within the shelter. We are monitoring our daily census to keep it below the total bed occupancy in order to maintain social distancing for residents (if at all possible).
We have seen additional intakes into our facility over the past week…with additional intakes pending and continue to receive calls for availability. We are prepared and ready for additional survivors to reach out during this time of isolation in their unsafe homes. We have hotel options for survivors who would need quarantined care and also explore ways to reduce exposure for our clients as well as our staff. Anyone in need of assistance should call 1-888-285-5665 for 24/7 crisis needs.
Our WomenSafe team continues to remain productive both on and offsite. Staff have adjusted hours to make sure there is consistent coverage at the shelter, and clinicians and outreach staff are successfully incorporating Zoom for Healthcare to maintain connections with clinical and case management services, if it is safe to do so. Staff are also handling the day-to-day needs of our clients and also working together from afar.
We had a staff meeting this week and I enjoyed the opportunity to come together and say hello…without masks. Moving forward, we are wearing masks onsite and encourage everyone to do the same no matter where they are.
Our Development and Finance Teams are meeting to discuss the new fiscal year which begins July 1. It is incredibility difficult to budget or furthermore anticipate how the remainder of this fiscal year is going to wrap up. There is so much unknown, but through webinars, phone calls, Zoom meetings and a lot of research, we are working to maintain funding for all of WomenSafe services.
We are continuing to apply for anything we can to help our agency in these emergent times, but also into our future. This said, we also fell victim to hackers. They had a valiant attempt at trying to withdraw funds from our checking account. This would have certainly been devastating for our agency. We are blessed to work with a banking institution that was on their game during this time and notified us promptly and we were able to resolve the matter. This was not without countless hours of time from our team and also our partners to resolve. We are hopeful that for now "they" stay away. It was a good reminder for all of us to keep an eye on those bank accounts for any weird activity. I guess it is true…when one is away, the thieves will attempt to play. 
Thank you Amazon shoppers (AND workers)…you are delivering! We are grateful for the donors who have shopped our Amazon wish list (Amazon COVID-19 Wish List), mailed checks to 12041 Ravenna Road, Chardon, Ohio 44024 and also made financial contributions via the WomenSafe website to show they care. We need your support now more than ever!
I continue to close with a list of some of the things I (and many others) are grateful for:
My coworkers/friends - I am grateful to work with such a dedicated and healthy team. Our shelter remains staffed 24/7, everyone is pitching in to cover agency needs, and we are collectively problem solving! I am grateful for our staff who continue to focus on sanitizing the facility including our agency vehicles to reduce risk overall. I love Zoom, but I still miss our face to face laughter and witty sense of humor!
My family - We are thankful to be able to be working and schooling at home when we can. This holds true as being the "Weirdest Easter Ever". The kids and I drove around to family's houses to chalk "We love you" and "Happy Easter" on driveways, blow kisses through windows, and share dessert via a Zoom get together. I know that I will never take a hug or kiss for granted again. I miss my family as I am sure whoever has made it this far in my letter does too J Being greeted by snow today seemed a bit surreal also…but I guess I am learning to just keep my questions to myself.
Technology - I am grateful for cyber security! As mentioned above, we could have had a huge problem this week and through having our thumb on the virtual pulse we were able to win…at least for now. Stay safe everyone! I look forward to further cheering on our technology feat in the future as we look to incorporate more community education and outreach via the social media world. Wish us all luck! I can't wait for us to come together and share the wonderful and some epic fails in the world of cyber meetings…wow!
Those random acts of kindness - Still holds true…we have a wonderful community who is thinking of us during this time. I am lucky to call many my family, friends and neighbors…thank you to many of the generous folks who are making and dropping off masks and items from our needs list. We can't do it without you. So many of you have sent thoughtful texts and emails just to let us know they are thinking of us. It certainly means so much!
 I'm grateful to be an Ohioan - I am so proud to be a part of a team serving Northeast Ohio. I am thankful to be surrounded by top hospitals, top manufacturers, and organizations right here willing to make a difference in fighting this virus. I am grateful to live and work in Northeast Ohio alongside some of the best law enforcement and social service agencies ever! This said, it looks like we are also making significant progress on keeping the curve low. Let's behave and hope that we may be able to share company at a restaurant soon.
My quote of the week…
Life isn't about waiting for the storm to pass…it's about learning to dance in the rain.
Thank you for keeping WomenSafe in your thoughts and prayers.
Cyber hugs to all of you…
Andrea
Andrea Gutka, CEO/Executive Director
WomenSafe, Inc., the Green House