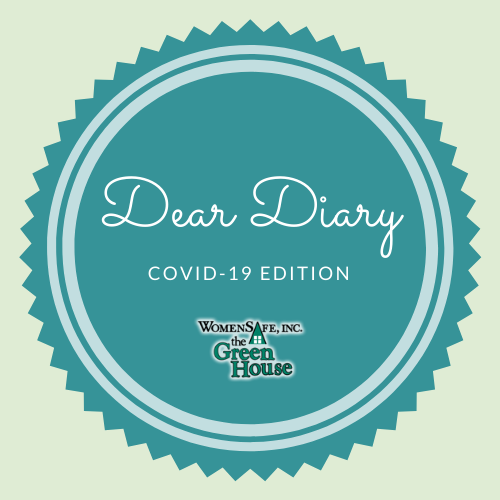 4/10/2020
Dear Diary…
It feels like yesterday that I sat down to write this update for Week 1…here we are entering Week 4 of addressing the Coronavirus pandemic and providing continued support to survivors of domestic violence.
Our clients are pretty much staying to themselves. We are working to maintain goal-related appointments and are able to still offer onsite support within the shelter. We are monitoring our daily census to keep it below the total bed occupancy in order to maintain enough space for residents and anticipated influx to shelter. We have had a couple of residents move out over the past week and are continually receiving inquiries about availability.
We are prepared and ready for additional survivors to reach out during this time of isolation in their unsafe homes. We have explored hotel options for survivors who would need quarantined care and also explore prepared meal options so that there is not much time spent in the kitchen preparing meals together. While this reduces exposure, we also know that this is important engagement for survivors so it is really about providing balance. Please let anyone you know in need of assistance to call 1-888-285-5665 for 24/7 crisis needs.
Our WomenSafe team has been productive both on and offsite. Staff have adjusted hours to make sure there is consistent coverage at the shelter and clinicians and outreach staff are successfully incorporating Zoom for Healthcare to maintain connections with clinical and case management services if it is safe to do so.
Staff are also handling the day to day anxieties of our clients. Fear and trauma that were present in their former unsafe living situations may now present in a different way when we look at a communal living situation with restrictions. Art therapy projects are set up on Mondays and provides clients with relaxing things to do during the week.
In addition, our Development and Finance Teams have come together to figure out funding gaps for the remainder of this fiscal year and as we approach our new fiscal year. There is so much unknown, but through webinars, phone calls, Zoom meetings and a lot of research, we are working to maintain funding for all of WomenSafe services. With the temporary closure of the Resale Shoppe, grant writing has never become more important. We are continuing to apply for anything we can to help our agency in these emergent times, but also into our future.
Thank you, Amazon shoppers…you are delivering! We are grateful for the donors who have shopped our Amazon wish list (Amazon COVID-19 Wish List), mailed checks to 12041 Ravenna Road, Chardon, Ohio 44024 and also made financial contributions via the WomenSafe website to show they care. We need your support now more than ever!
I continue to close with a list of some of the things I (and many others) are grateful for:
My coworkers/friends - I am truly lucky to work with such a creative and amazing team. Our shelter remains staffed 24/7, everyone is pitching in to cover agency needs, and we are collectively problem solving! I am grateful for our staff who continue to focus on sanitizing the facility, including our agency vehicles to reduce risk overall. I look forward to our virtual staff meeting next week, but as I've said before, I love Zoom but I still miss our face-to-face laughter. I am lucky to have you all in my life as coworkers and friends.

My family - We are thankful to be able to be working and schooling at home when we can. The kids know that there are times I have to be onsite for WomenSafe and they understand. We try to have lunch together to make sure everyone is staying caught up. The kids are missing their school friends…and we are all missing the family get-togethers for birthdays, anniversaries and Easter. Feeling "bummed out" is kind of an understatement right now. 

Technology - I am grateful for VPN! We all have so much to do but know that it could not be done without connecting virtually. I also appreciate our Facebook fans! This week we reached over 2,500 likes! Connection is key!

Those random acts of kindness - Still holds true…we have a wonderful community who is thinking of us during this time. I am lucky to call many my family, friends and neighbors…we have staff who have offered to shop for some of our older volunteers, community members delivering handmade masks, microwave meals, flowers and chocolate, and funders and leaders sending out thoughtful texts and emails just to let us know they are thinking of us. It certainly means so much!

I'm grateful to be an Ohioan - I am so proud to be a part of a team serving Northeast Ohio. I am thankful to be surrounded by top hospitals, top manufacturers, and organizations right here willing to make a difference in fighting this virus. I am grateful to live and work in Northeast Ohio alongside some of the best law enforcement and social service agencies ever!
I texted my Mom this morning…we are missing each other…and requoted a meme I saw this week…
"Remember…We stay apart so that we can all come back together."
Thank you for keeping WomenSafe in your thoughts and prayers.
Take good care,
Andrea
Andrea Gutka, CEO/Executive Director
WomenSafe, Inc., the Green House