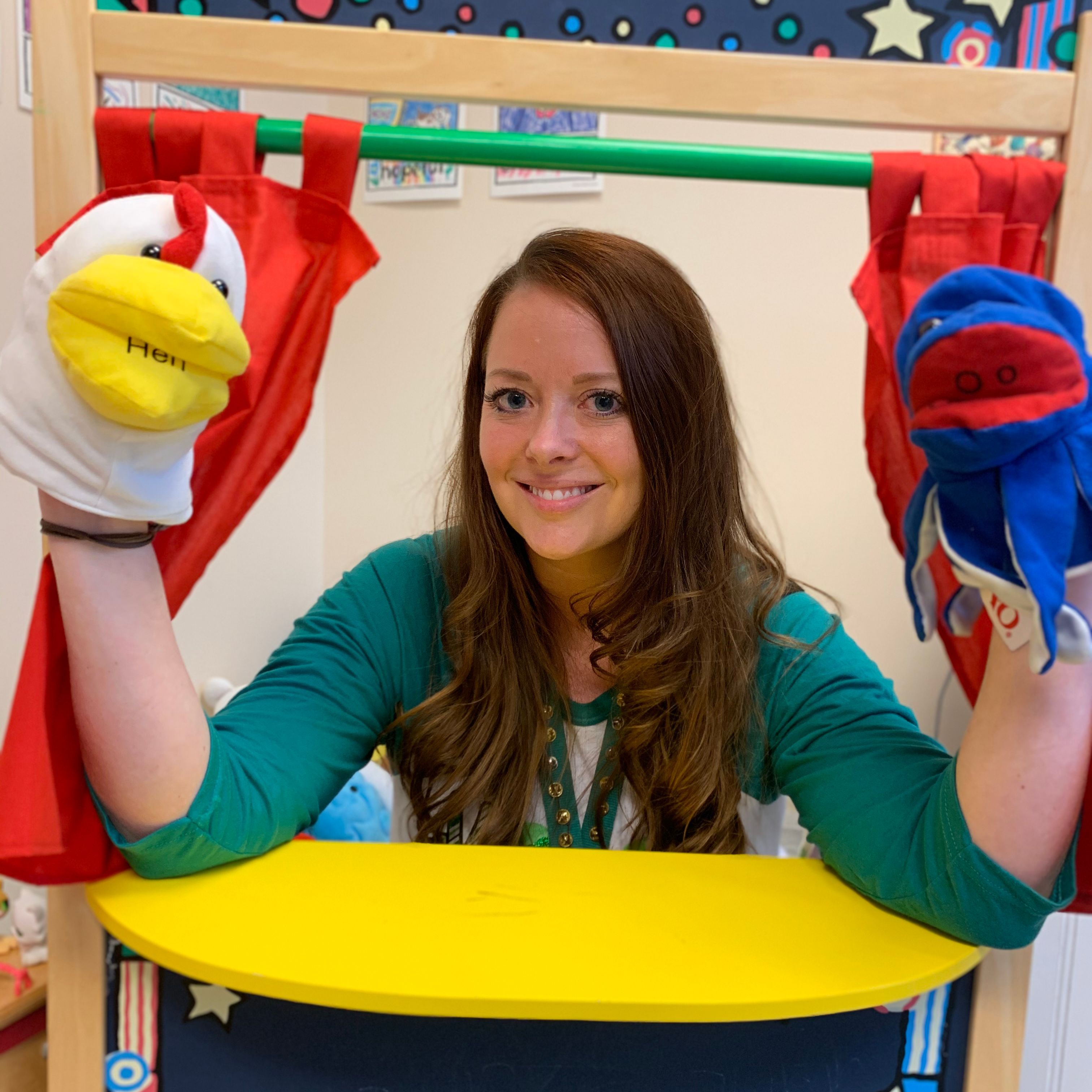 Who: Danielle V.
Job Title: Child Therapist
WomenSafe has several services that specifically cater to children and their trauma, including a designated Child Advocate, Empowered Parent Program, Healthy Relationship Educations in the community schools, and our Child Therapy Program, led by our child clinical counselor, Danielle V.
Danielle is a licensed MSSA LISW-S Clinical Therapist and has been working at WomenSafe for almost two years. She received her undergrad at Hiram College and her master's degree from Case Western Reserve. Her background in child therapy, with a focus on underserved populations, inner city youth, and trauma, led her to WomenSafe's doors. She has always enjoyed working with children and watching their journey unfold, helping them understand their feelings and how to process them. 
Many times, children going into counseling may be intimidated by what they're walking into. They've already been through a lot of trauma in their short lives and talking to someone about these issues can be scary. But Danielle makes them feel like they're in a safe space from the moment the child walks through her office door. She works with each child to develop their own customized goals and, they work toward those objectives in every session.
The sessions are very interactive and involve playing with toys, video games, crafting, role playing, or simply talking. Danielle loves being able to create their agenda together, allowing the kids to decide how they would like their session to flow. 
"Seeing kids actually enjoying daily life and overcoming their trauma is the most rewarding part about my job." - Danielle V., Child Therapist
In her free time, Danielle enjoys spending time with her family, which includes her three energetic nephews. Taking them on adventures is always a fun pastime, and if they can be outside, it's even better. Danielle loves kayaking, laughing with friends, and playing with her Mom's dog, Roe.
What Danielle's Coworkers Have to Say:
"Danielle is the greatest coworker one could ask for. Her kindness and cheerful energy is not only used in her sessions with clients, but also around the office! Danielle brightens each day." – Gina L., Assistant Director of Victim Advocacy
"When Danielle walks into a room, everybody is instantly happier. Her wonderful sense of humor and overflowing compassion are only two of the reasons that everybody is drawn to her. She's a great leader, always a team player, and is a great person to take the awkwardness out of the air (or add it, depending on the setting). I'm so glad I've had the chance to work beside and learn from Danielle, and am grateful to have her on our team!" - Megan F., Development Director 
"As my supervisor, Danielle is very supportive and goes above and beyond to help me reach my goals and needs. She is always available when others and myself are in need and is one of the first to step up to help. She is an awesome supervisor and coworker!"- Kathryn D., Parenting Education Specialist
"Working with Danielle is a breath of fresh air.  She brings such a positive energy to the workplace. She demonstrates teamwork and dependability to everyone." - Terra T., Assistant Director of Quality Assurance
"Danielle has a wonderful free spirit and dedication to the kiddos that are lucky to have her as their therapist. She is also an innovative thinker and leader with the Empowered Parent Program direction." - Andrea G., CEO
Get to Know Danielle in Her Own Words:
Q:  How long have you worked for WomenSafe?
A:  Almost two years but it feels like I have been here for a lifetime (in a good way). 
Q:  What are three words your coworkers would use to describe you?
A:  Compassionate, funny, dedicated 
Q:  What do you like to do in your free time?
A:  Reading, binge watching Netflix, and traveling.
Q:  If you could learn to do anything, what would it be?
A:  Learn a different language.
Q:  If you could meet anyone, living or dead, who would it be?
A:  My maternal grandmother when she was younger.
Q:  If you won the lottery, what is the first thing you would purchase?
A:  I would purchase a big home in Savannah, Georgia where all my family members and friends could live and enjoy to nice weather.
Q:  If you could visit anywhere in the world you've never been, where would you go?
A:  I would love to visit New Zealand!
Q:  What is your favorite holiday tradition?
A:  I love Halloween! I love dressing up, decorating, and making spooky foods!
Q:  What's a fun fact that not many people know about you?
A:  My nickname from my family is Bub but I will not disclose why... haha
Q:  What is at the top of your bucket list?
A:  Traveling across the United States.
Q:  What's a work-related accomplishment you're really proud of?
A:  Seeing my clients progress through treatment and start enjoying more child-like activities.
Q:  Who or what inspires you?
A:  My clients. They are resilient, awesome young people!