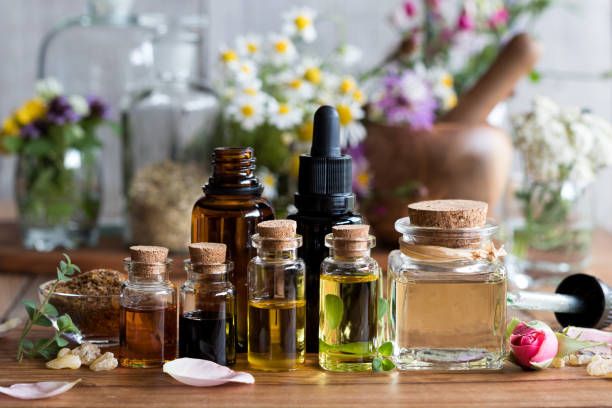 Diffusers and essential oils abound at stores that sell home products, from Wal-Mart to Macy's, Giant Eagle to Whole Foods, individual oil sellers, and all over the internet.
 I discovered essential oils while watching an episode of Martha Stewart on a Sunday morning at 7 a.m. many years ago. Sunday morning, 7 a.m., Martha Stewart? Yes, I was an eager-to-learn being then, but I learned much "It's a Good Thing" stuff from Martha.
Luckily, I found some essential oils at a store years ago, only to find they no longer carried them the next time I went back. I was disappointed, but when they did eventually come back, they came back with vigor!
 "Take advantage of this trend, whether you already have them or are still apprehensive about buying a diffuser or oils."
Some benefits of using oils just include the fact that they're all natural (why would you want that artificial chemical-laden junk!), they have a more profound effect on us than artificial scents, you can make your own oil recipes for diffusers and hygiene product-making at home, and, oh yeah, IT'S SO FUN!
So what does all this have to do with domestic abuse? You're visiting this site to learn or be given some form of support relating to abuse, not about some silly oils!
But those silly oils are just one of this earth's wonderful gifts to us. Those oils help us focus, relax, feel energized, feel loved, invoke memories, whatever our stressed-out brains need at the moment.
Abuse victims and survivors are stressed. Stress does bad things to our moods, bodies, the way we think. We feel a bit stronger when we aren't as stressed, and strength gives us courage to want to overcome our struggles. 
Remember when I said that oils have a profound effect on us? As this article related to essential oils and PTSD shows, citrusy oils give our minds a pick-me-up, lavender is widely touted as a relaxer, and woodsy oils help ground us.
Do keep in mind one thing about oils: every scent might not be for everyone. Lavender might calm many, but it is strong to me and makes me alert. Don't feel odd if you discover this with other oils. Find what works for you, have fun with it, write down your own recipes and log how they make you feel.
If you had a bad day at work, use essential oils to calm you. Got in an argument with your partner? Use a recipe to calm and clarify your mind. Or if you are having a gathering, use another recipe to make your guests feel relaxed and happy. Just because a source says the scent of orange makes you happy, it might instead invoke a terrible memory for you. Don't use that oil then, it's that easy!
"The importance of aromatherapy is to help lighten our mental load a bit." 
Even if you view it as a "trick", what's the harm in an olfactory trick if it helps your mind and soul? Whether you think it's a trick or the real deal, studies show the important value of aromatherapy on those who are suffering from stress and trauma.
As I bow down to Mother Earth, I'll say thank you for providing us with natural tools from under our noses.
Snifff, ahh!