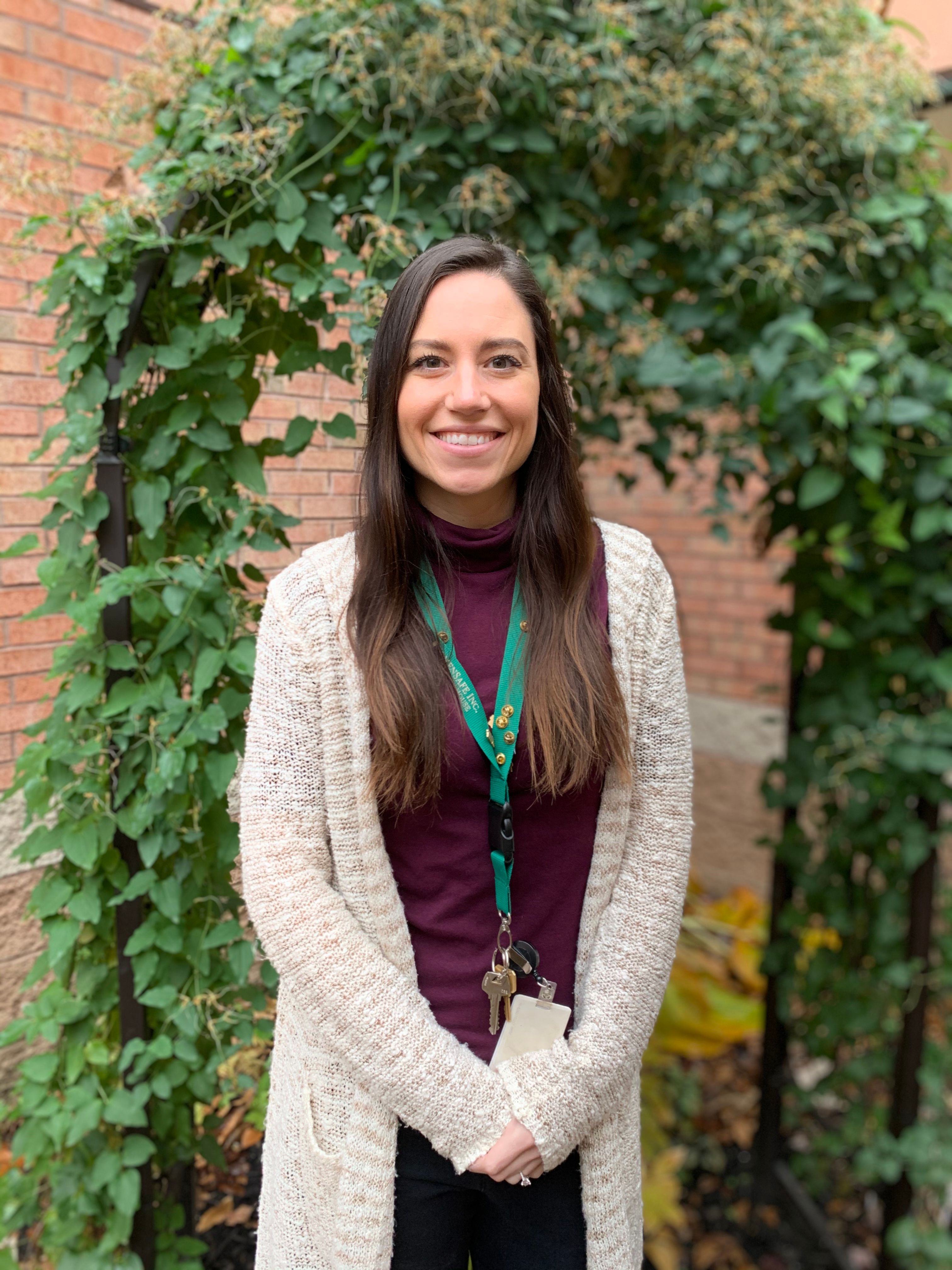 Employee: Megan Fisher
Job Title: Development Director
As the Development Director for WomenSafe, Megan is tasked with many responsibilities. She oversees our special events, works on creating marketing materials, helps run our social media accounts, and is a key player in our fundraising efforts. She is fundamental in building relationships with our donors, and with her bubbly personality, she charms everyone she meets. 
Megan started at WomenSafe as the Donations Coordinator. Within two years, she worked her way up to what was then known as the Assistant Director of Community Affairs, which then turned into her current role as Development Director. 
When asked what she likes best about her job, Megan replied, "I just meet so many giving people all the time. I feel like they're way better than I am, and it makes me want to try to be better like them." She went on to say how she is inspired by her coworkers every day: "Working in social services is really hard, and I'm so thankful for my coworkers around me that put in so much extra time. We really are helping a lot of people, and it's good to remind ourselves of that." 
Megan was in charge of our most recent fundraiser, our annual Fall Luncheon. She worked hard for months prior to the event to ensure its success, and in just one afternoon we raised over $17,000! Learn more details about the day from Megan herself.
---
What Megan's coworkers have to say:
"Megan has an amazing spirit and willingness to tackle anything put in front of her. I enjoy working (and laughing) with her every day!" - Andrea Gutka, Chief Executive Officer
"Megan is a joy to work with - kind, hard-working and enthusiastic. She takes the many challenges of her role in stride and somehow, always finds the time to make others feel appreciated." - Elizabeth Johnson, Development Associate 
"Megan is always smiling, her door is always open to talk, and her sense of humor is infectious." - Jessica Martin, Chief Clinical Officer
"Megan is always open to new ideas on how to make WomenSafe better. She is super friendly to everyone -coworkers, volunteers, donors, board members, etc.- and it's hard not to come away with a smile on your face after having a conversation with her!" - Stacy Erdman, Geauga County DV Coordinator
---
Get to know Megan in her own words:
Q:  How long have you worked for WomenSafe?
  A:  Five years
Q:  What are three words your coworkers would use to describe you?
  A:  Positive, a team-player, organized
Q:  What do you like to do in your free time?
  A:  Enjoying a glass of wine on the couch with friends or family is my favorite thing to do!
Q:  If you could learn to do anything, what would it be?
  A:  I always wished I had a good singing voice 
Q:  If you could meet anyone, living or dead, who would it be?
  A:  I would meet my Uncle Roger. He died before I was alive and my family always has the funniest stories about him.
Q:  If you won the lottery, what is the first thing you would purchase?
  A:  I would go on a clothes shopping spree!
Q:  If you could visit anywhere in the world you've never been, where would you go?
  A:  Australia
Q:  What is your favorite holiday tradition?
  A:  Celebrations! Friendsgiving, Ugly Christmas Sweater Parties, Hallows-Thanks-Mas, I love any excuse to throw a party
Q:  What's a fun fact that not many people know about you?
  A:  My Dad's family was Amish
Q:  What is at the top of your bucket list?
  A:  Renting an RV and traveling cross country for a few weeks-a month
Q:  What's a work-related accomplishment you're really proud of?
  A:  Growing and executing successful fundraisers and bringing in the first Annual Partner to the agency
Q:  Who or what inspires you?
  A:  Knowing that only I can make my life better for tomorrow!