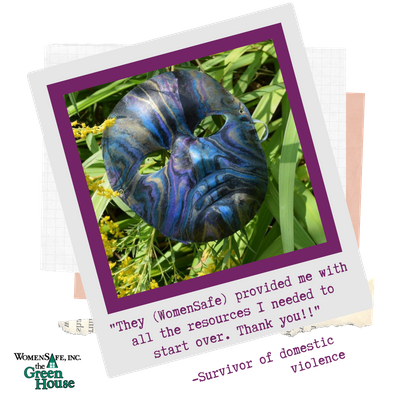 Meet Annette
Annette came to WomenSafe with her 4 year old son, infant daughter and mother who could no longer live on her own.  Annette's marriage always felt "rocky", but as a new mom and wife, she felt pressured to push through and endure unhappiness.  It was not until she had started talking to her co-workers that she even realized that his controlling and possessive behavior was not normal. 
After the physical violence set in, she knew she had to get out. One day she loaded her two children, her mom, and a bag of belongings on a bus and called WomenSafe's hotline.  As soon as she arrived, she wanted to talk with an advocate about what she could do to better their circumstances. Her motivation and tenacity caused her to enroll in EVERY program including Counseling, Art Therapy, Court Advocacy, Empowered Parent Program, Housing, Employment Specialist Services, and Aftercare.
Working through her trauma in counseling and art therapy, she was able to get her bearings on WHERE she wanted to be.  She knew this road to independence would be long, but she was confident there was a better life out there for her family.  Working with the housing and employment advocates, Annette was able to secure employment and housing in an area that she could walk to work. It even had a daycare center! 
Annette was overjoyed to shop at the Resale Shoppe for her new home. With the help of the Donations Coordinator, she was able to move into her new home and start her new life, free from violence. "They (WomenSafe) provided me with all the resources I needed to start over. Thank you!!"
---